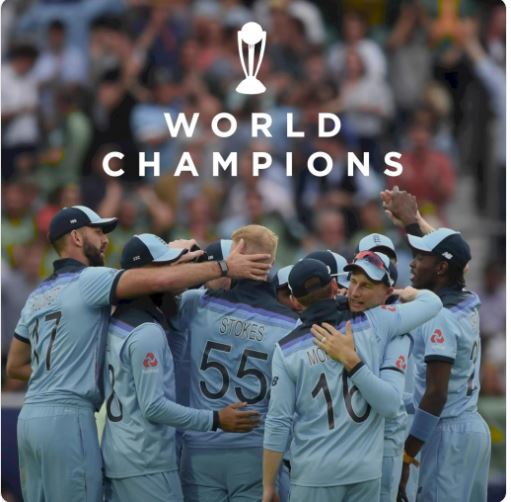 "Edge of the seat thriller" is a much smaller word to describe the ICC world cup final match in 2019. Especially in the second innings, in last 3 overs, each ball was decisive and the match was no less than a blockbuster thriller movie. World cup final match becoming tie, and even in super over also both the teams scoring exactly same runs, finally the number of boundaries in the super over deciding the world cup champion is something that can be imagined only the wild dreams of cricket lovers.
Final match between New Zealand and England became tie:
New Zealand that won toss elected to bat and scored 241 runs. England started chasing the match with the target of 242 runs. But New Zealand was having upper hand at the half of the match i.e. at 25 overs, as England scored only 93 runs losing 4 wickets. Later Butler and Stokes repaired the innings and both completed half centuries. But again New Zealand got upper hand after taking Butler wicket in the 45th over. England needed 46 runs off last 5 overs with five wickets in hand. However 49th over again turned match as England last two wickets in that over. In the last over England had to do 15 runs to win but it could do 14 runs only and that made the match tie.
Both teams scored same runs in Super over as well:
Then both the teams had to to play tie breaker super over. England scored 15 runs in the super over. New Zealand players entered the field with the target of 16 runs in one over to lift the trophy. However, New Zealand also could make only 15 runs in this over. So as per the rules, if both teams make exactly same runs in super over as well, whichever team gets maximum runs through boundaries will be the winner. As England hit two boundaries i.e. 8 runs and New Zealand hit only one 6, England became the winner of 2019 world cup.
Even though technically, as per the rules , England became winner, New Zealand also won the hearts of cricket lovers for their outstanding performance. Undoubtedly this is one of the best final match in the history of world cup!!
Telugu360 is always open for the best and bright journalists. If you are interested in full-time or freelance, email us at
Krishna@telugu360.com