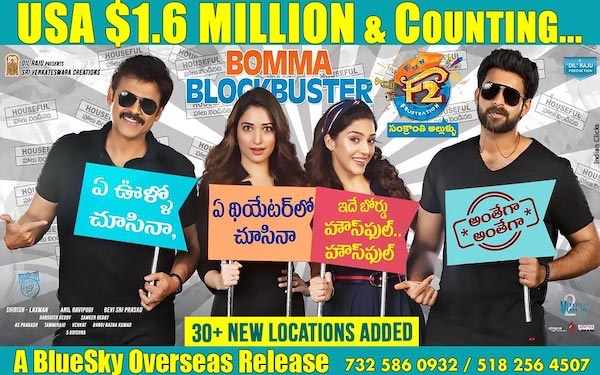 F2 – Fun and Frustration is rocking all over USA with very strong 2nd weekend irrespective of bad weather in some parts of USA. So far it grossed $1.6M and heading towards $2 M mark with still some sold out shows in some locations.
It has collected around $230k on 2nd Saturday (2nd week Saturday) in USA with which it has created a new Non Baahubali record. No Telugu movie has collected $230k in 2nd week Saturday single day including all other movies which crossed $2 M.
Audience are enjoying the movie begin to end and we noticed that repeated audience also coming for this movie.
On other hand F2 is also rocking in Australia, New Zealand, Gulf, UK/Europe and other countries.
Watch F2 in bigger screens if you haven't and watch it again if you already watched and stay away from Frustration. All ticket prices are $12 and below (exceptions may apply).
Click Here!! for the USA Schedules.
BlueSky Thank you overseas audience for their support and this will be 3rd Sankranti Hit movie for BlueSky after Soggade Chinni Nayana (2016) and Sathamanam Bhavathi (2017).
Also BlueSky success stream continues with SVC Creations and Thank you to Dil Raju Garu, Sirish Garu and Laxman Garu for their continues support.
Press release by: Indian Clicks, LLC