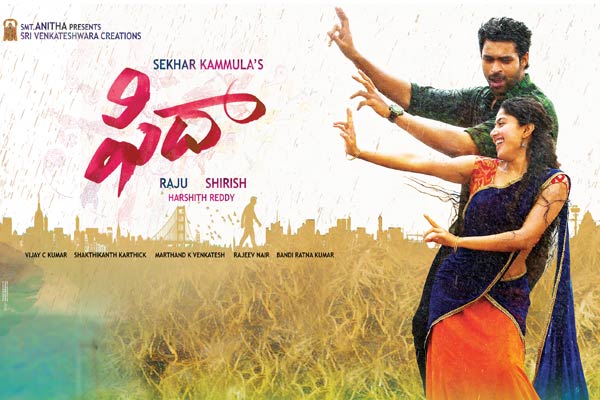 Fidaa review, Fidaa telugu movie review
Telugu360 Rating 3.5/5
Sekhar Kammula who once happened to enjoy a star director status in overseas market, specifically in youth segment, seemed to have lost his Midas touch in the recent past. In an attempt to regain his former glory, the director came up with a youthful entertainer 'Fidaa' in association with Dil Raju who is also known for family pleasant movies. Let's find out if this film work in favor of the actors and makers?
Story:
Fidaa is a feel-good family story of two couples. Bhanumati (Sai Pallavi) and her sister Renuka live in a village near Banswada in Telangana. Raju (Raja Chembolu) who is an NRI, in match making process, visits Renuka's house along with his younger brother Varun (Varun Tej). Raju likes Renuka and as they prepare for marriage, love blossoms between Bhanumati and Varun.
While Raju and Renuka are happily married, there is a conflict between the lead couple. Raju, Renuka and Varun leave for USA. Rest of the story is about how the conflict between Varun and Bhanumati develops and subsequently leading to the climax.
Analysis:
Set in the background of a middle-class family, Fidaa is a testimony of Sekhar Kammula's sensibilities. The rural backdrop, the bonding of two sisters, their lively conversations and the soul of rural Telangana makes you fall in love with the film for its entire first half. In the role of rebellious village belle Bhanumati which is an author backed role, Sai Pallavi nailed it with her stellar performance and dubbing. Dialogues showcasing the attitude of Bhanumati are enjoyable not only by the youth but also by family audience. The prompt punch liners by her are smartly written. The marriage of Raju and Renuka happens during a heavy downpour in the village. It is very realistic with a nice execution.
However, the misunderstanding between Varun and Bhanumati towards interval fails to sound convincing. Bhanumati, being bold and new age girl, suspecting Varun for an insignificant reason is impractical. Superhit song "Vachinde…Melliga Vachinde" is fantastic on screen. Again, Sai Pallavi who is also an amazing dancer, made this song hit. Other two songs in first half "Hey Mister", "Ey Pillagaada" are decent enough. Overall, first half is very good for all sections of audience despite slow narration at times.
Second half begins with all the characters except Bhanumati returning to the USA. Conflicts escalate between Varun and Bhanumati. The love proposal scene and Bhanumati's response are hilarious. Towards middle of the second half, movie considerably slows down with the story going nowhere. The love – hate – love thread between Varun and Bhanumati becomes redundant. However, the conflict, the realization and the reunion points are not narrated in a convincingly manner. The movie would have been a blockbuster, had Sekhar excelled in these aspects. Bhanumati characterization seemed to be diluted, especially in the second half, as her love-hate confusion is not heart touching. Melodious superhit "oosupodhu…" song comes as Montage song. Fast beat number "Edo Jarugutondi.." is also good. There is nothing new that the story has to offer, except for the different backdrops (Rural Telangana and USA) which brings about some freshness.
Performances:
Varun Tej as Varun has evolved significantly as an actor. He needs to keep a check on his weight. Sai Pallavi is the show stealer and brings life into Bhanumati's character. Her own dubbing in Telangana accent is praiseworthy. However, in her close-up shots, pimples all over her cheeks is bit annoying to watch. Raja Chembolu who is Sirivennela Sitarama Sastry's son, played nicely as Varun's brother. Sharanya Pradeep as Sai Pallavi's sister did well and is a good choice for the role. Sai Chand as the father of the girls is a perfect fit.
Technicians:
Sekhar Kammula still remains relevant with youth. He observed the present generation girls as good as he did in Anand, 13 years ago. Fidaa may not be his best work, but definitely has its moments of sensibilities, feelings and emotions. Shakthikanth Karthick's music has soul and all songs are pretty much good. Background score is decent. Dil Raju spent lavishly wherever required to deliver the look of a quality film. Presently when YouTube type short film quality is flourishing in the industry, it is good to see that the makers spent well to give a true cinematic appeal. Editor and cinematographer did their job well to make this flick a decent watch.
Verdict:
Fidaa is a feel-good film with loads of humor, love, emotions and nice songs. While the first half is very good, second half is just passable with few dull moments. This film may not be Sekhar Kammula's best work, but definitely worth watching with the family. Heroine Sai Pallavi is the show stealer with her commendable performance. This film has all ingredients to become HIT in 'A' centers and in overseas market.
Telugu360 Rating 3.5/5
Release Date : 21st July, 2017
Director : Sekhar Kammula
Music Director : Shakti Kanth
Produced by : Dil Raju
Cinematography : Vijay C. Kumar
Starring : Varun Tej, Sai Pallavi