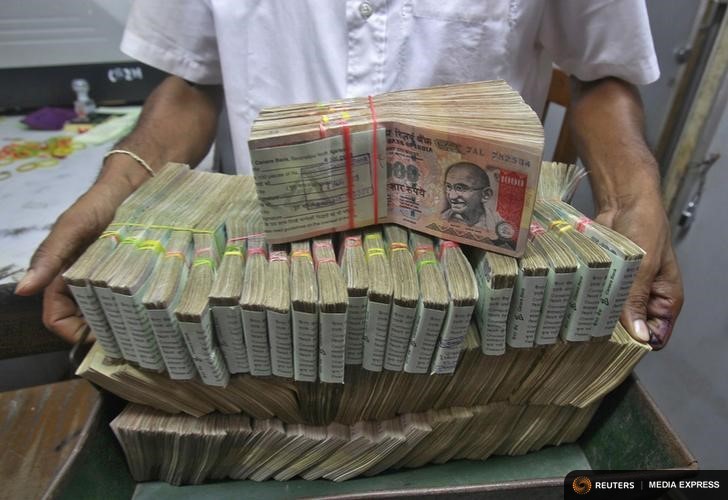 By Himank Sharma
MUMBAI (Reuters) – On paper, India's households have more reason than ever to save. But convincing them that the central bank can keep inflation low is proving difficult, hindering the country's ambitious growth plans.
That raises the stakes for Prime Minister Narendra Modi's government, which wants to channel more savings into investments that can generate both growth and jobs, to boost chances of winning a second term after its landslide victory in 2014.
Real interest rates have been positive for over a year, ending almost a decade of negative rates, during which fast-rising prices ate away at whatever savers earned on deposits, and hardened their preference to hold gold and property.
Now inflation is around record lows and gold and property prices are languishing.
But a lack of confidence that inflation will stay muted, combined with lackluster income growth, means India's overall savings growth rates are at the weakest level in years, following five years of decline.
"If the government really wants to propel savings in the economy, it would be the best time to roll out more instruments like the tax free bonds…or to increase the investment limit into tax-free provident funds," said Deepti Taneja, a 32-year-old New Delhi college professor.
Making it easier for some 18 million state and local government employees, like Taneja, to save more, the government pay commission, which reviews public sector salaries every few years, has recommended an increase of several billion dollars.
"We hope at least to some extent this money from the pay commission will come as savings into the banking sector and not go towards physical assets," a senior policymaker said.
But, people still want better incentives to make financial investments.
"I am really confused about what will I do with these surplus funds once they start crediting it to my salary, because most of the financial instruments presently offered by the government provide little tax exemption," said Taneja, a mother of two.
If not enough of the rise in incomes goes toward savings it could lead to other problems for the economy.
"The government has to raise savings. It is a virtuous cycle that kicks in when savings goes up, investment goes up and GDP grows," said D.K. Joshi, chief economist at CRISIL, a leading credit rating agency, which also advises on risk and policy.
"If on the other hand your investment goes up and savings doesn't, your current account deficit gets bloated."
There is work to do. The World Bank estimates the gross savings rate – corporate, government and domestic savings – dipped below 30 percent in 2014 for the first time in over a decade.
Bank deposits, a proxy for financial investments by India's conservative households, grew just 10.6 percent in the September quarter. That is well below expected capacity, which some analysts put at 1.5 times economic growth: closer to 15 percent.
SAVE, SAVE, SAVE
Government initiatives to pull more cash out from under India's mattresses have had little success.
A recent gold deposit scheme to monetize more of the 20,000 tonnes of gold Indians have hoarded has attracted just 400 grams.
Another plan to raise 400 billion rupees ($6 billion) through tax-free infrastructure bonds was announced in this year's budget, but the specifics are yet to be finalized.
New Delhi still hopes higher incomes, lower inflation and a push to create more than 190 million new bank accounts will boost gross savings back above 30 percent, but it is unlikely to hit the peak savings rate of over 36 percent soon.
But there are some encouraging signs that Indians are becoming more interested in financial investments: equity mutual funds have seen inflows of 798.5 billion rupees so far this year.
But overall equity participation in India remains paltry. Less than 2 percent of Indians hold shares, compared to 30 percent of Koreans and 10 percent of Chinese.
The last time India boosted pay and allowances for government officials in 2008, the household savings rate jumped to 25.2 percent from 23.6 percent.
That rate has since dropped closer to 18 percent, much of it still flowing into gold and property.
But if even 16.5 percent of the newly raised wages and pensions for the public sector flows into financial savings – a target set by the current five-year plan to 2017 – then close to $14 billion in new cash could be pumped into the system.
That would be more than double the amount that can be expected at the current savings rate, and it would be enough to cover almost 5 percent of planned government spending this fiscal year.
(Additional reporting by Suvashree Choudhury in MUMBAI and Manoj Kumar in NEW DELHI; Editing by Clara Ferreira Marques and Simon Cameron-Moore)