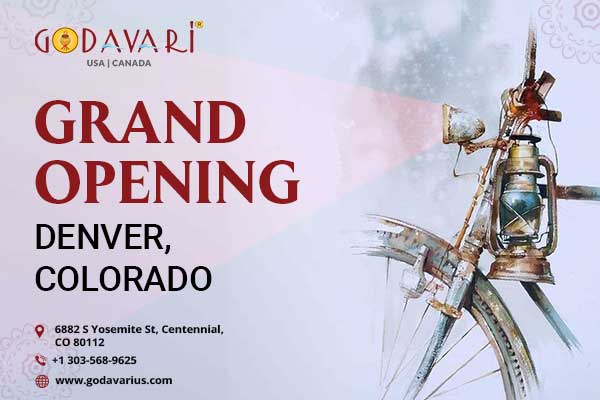 America's most loved Indian restaurant chain born in Boston,  "Godavari" is opening up its new location in Denver, Colorado this Saturday on May 13.
Godavari Denver is located in one of the prime suburbs of Centennial which is surrounded by a number of corporate and residential units which are currently underserved with Indian food. A 5500 Square feet build out with the entire aesthetics shipped from India. This Mother's Day would be definitely special for folks in and around Denver.
Their latest location in Princeton, New Jersey is being loved by all the communities for the authenticity of the South Indian food.
"Covid gave us a great opportunity for us to sit back and fix many things with Godavari and we are glad we did that and are now buckled up to do more ventures focusing South Indian food going forward. Our two new concepts in India, "United Telugu Kitchens (UTK) & Ishtaa" are taking the Telugu states by storm.
We are opening up many more of those throughout the world" said Koushik Koganti & Teja Chekuri, the founders of Godavari.
"Our Indian community is eagerly waiting to welcome Godavari especially their Lunch Buffets and great vibes," said Avinash Reddy, who has been a long-time resident of Colorado and waiting on a good Indian restaurant in the area.
"We found a great location and changed the vibe completely so that people wouldn't be missing India anymore along with their Grandma's food" iterated Mani & Ram, the local franchise owners of Godavari.
Almost everyone in the Indian community are sending us messages and enquiring about our opening date and we are definitely overwhelmed by the craze Godavari has among the millennials especially they added. We would definitely do our best to satisfy the taste buds of authentic Indian food lovers.
Feel free to reach out to Godavari Corporate (franchise@godavarius.com) to join the amazing family and spread the aroma across the globe.
Here are the details to visit Godavari in Colorado!
Godavari Denver
6882 S Yosemite Street
Centennial, CO 80112.
Contact:
303-568-9625
Thanks again…. Hope you all enjoy our cooking…
Visit: www.GodavariUS.com
Content Produced by: Indian Clicks, LLC