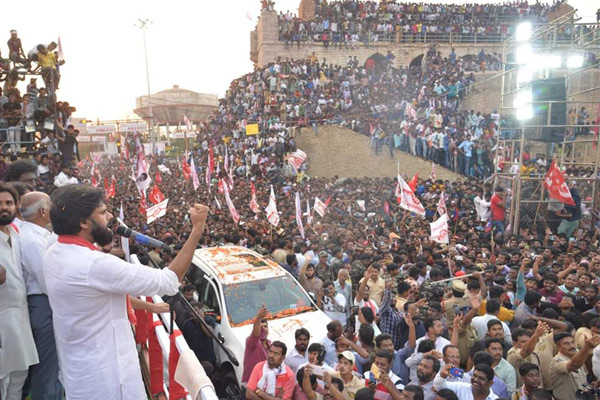 As expected, youth and fans are attending the election meetings of Pawan Kalyan in very big numbers. They are also making a lot of noise that it is proving to be a hurdle for smooth conduct of his meetings. The loud sloganeering of these fans is often obstructing the speech delivery of their Senani. The question now is whether this youth following will effectively translate into the vote on the polling day.
It is Pawan's strong hope that his party will play a key role in government formation in the State. He has even mentioned in his speeches that he has chances of becoming CM just like in Karnataka where Kumara Swamy became CM with very low numbers. But for this, Jana Sena has to reach double digit.
Many poll surveys are coming out these days. Most of them are not even making any reference to Pawan Kalyan factor. One or two have given just 2 to 5 MLA seats for Jana Sena. The situation is really hopeless for BJP and Congress as Andhra voters are punishing them for the injustice done to AP before and after reorganisation. So, totally it is a game being played by regional parties in AP polls. Analysts say the youth vote bank is not organised like the regular party or caste vote banks. It cannot be predicted whether Pawan can safely depend on the young voters as of now.
Telugu360 is always open for the best and bright journalists. If you are interested in full-time or freelance, email us at
Krishna@telugu360.com