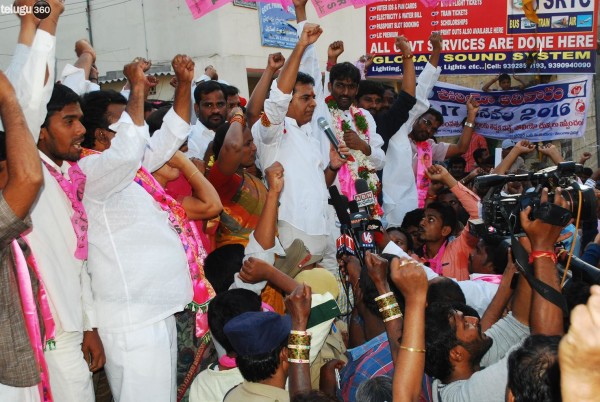 The thumping victory of TRS in GHMC elections continues the longest winning streak of a political party in Indian Political History. How did TRS do it? What are the lessons for Others? An analysis
Whichever way you look at,  the resounding victory of TRS in the GHMC elections, the baffling result of 99 seats out of 150 corporation seats is a result of meticulously-orchestrated, well-calibrated strategy that was planned months before even the GHMC Elections date was announced. Considering the previous achievements of TRS in GHMC elections, they couldn't have asked for more endorsements from the urban voter. In 2009, under the shadow of the YSR regime, TRS didn't even participate. But this time, the car symbol swept all opposition parties out into oblivion and built itself into a formidable position of power and absolute command of the state of Telangana.
What are the unique aspects of this victory? It breaks many established political myths that will surprise even political pundits.
One of the biggest myths that TRS busted is that the Ruling Party generally extinguishes its political capital within the first 12 – 15 months after getting elected to rule. Look at TRS which proved the only exception in Indian polity today with win after win, even after 19 months of getting elected at the assembly. With a decisive mandate in the first Assembly elections, they felled the main opposition (TDP), dismantled the bits and pieces left of Congress and BJP. As the force of TRS grew, the party drew in defectors from all the mainstream parties including the TDP. Then came the by-elections, then came Warangal election. But the political capital – which is a term used to describe the goodwill a ruling party enjoys until the honeymoon period post-elections – only kept getting stronger and stronger much to the baffle of experts and pundits.
From the beginning, TRS knew the only way to get stronger is to decimate the opposition without mercy – and it knew with a huge population of Andhras settled in Hyderabad, the best way to win them over is two-fold: keep puncturing the achievements of Naidu in creating Brand Hyderabad on one side and start winning over the Andhraites with sops and charms. In both, TRS party succeeded in the GHMC elections in the most assertive way possible making TDP bite dust and become a victim of its own false image it created in Hyderabad. Except KPHB Colony (won by TDP), TRS swept every Andhra bastion like Kukatpally, Vanasthalipuram, Kothapet, R.K.Puram, Balanagar, Ameerpet, Vengalrao Nagar,etc. It broke BJP bastions like Kachiguda, Venkateswara Colony and Himayatnagar, stormed into congress strongholds like Khairatabad, Banjara Hills and Jubilee Hills. Before announcing the elections itself, TRS de-limited many areas and reorganised the divisions such that there is broadbased representation of settlers, minorities and slum-dwellers who represented sizeable vote-banks and then promised measures to address each of them. Measures like KCR's goodwill trip to Amaravati and the mighty Chandi Yaagam have paid rich dividends to TRS in wooing Andhra voters big time.
For tackling the IT crowd, K.Tarakarama Rao, the IT minister and the face of TRS in this election created a social media campaign and a groundswell of fresh charisma and cosmopolitan pragmatism with the cybercitizens of the city. Participating in multiple tete-a-fetes with media experts opened a world of hope and optimism among the netizens and the metro crowds about creating a "truly global city". Initiatives of accelerating the Metro Rail and the T-Hub of Incubators for startups paved the way for Hyderabadis to dream of the next-big wave of IT after the Madhapur wave of the nineties. The success of the campaign united all the digital who's who of Hyderabad like never before – proof that the entire belt of Seri Lingampally, Madhapur, Hafeezpet, Hydernagar, Kondapur, Miyapur, Chandanagar, Ramachandrapuram and Gachibowli voted for TRS felling hopes of any return of TDP. The promise of skyscrapers, multi-layer flyovers, signal-less junctions appealed to the uber-rich on one side and the promise of one lakh two-bedroom flats kept the poor voter enthused. Net result: A landslide victory for TRS which completes the lap of victories that just seem to get bigger and bigger since 2014 making this the nation's longest-winning streak. The victory also came with lot of tacit pacts with MIM in allowing their hold on Hyderabad grow much to the chagrin of BJP and TDP. TRS's only gameplay was to eliminate all opposition systematically and prevent them from re-grouping in a while that doesn't threaten their tightening grip on the voter. It shielded weak candidates in areas where MIM contested but also pushed them to have more women corporators. Thankfully, MIM tasted a thumping victory too with 44 seats of which 18 were women corporators , even as the overall number of women corporators itself has gone upto 75. But the good news is that TRS is under no obligation to have an official tie-up with MIM for the Mayor Post or Deputy Mayor post – which gives a sigh of relief to peace-loving brethren.
The losers in the GHMC elections are undoubtedly, the three parties – BJP, TDP and Cong-I. Of course, YSRCP has never been in contest here, so one needn't even talk about it.
BJP and Modi will realise that leadership in this part of India has been the most lacklustre. Without a strong plank to fight elections, and a cohesive strategy to fight the ruling party, BJP leaders in Hyderabad have only depleted their vote banks over the years. Even Modi's magic doesn't seem to hold any hope for BJP in Hyderabad and Telangana which is dissipating faster than even Congress hold. Years of neglect of the corporator's locality has ensured that BJP is seen as the most incapable party in Hyderabad where neither the fire-brand power of the earlier generation of leaders like Dattatreya or the modern cosmopolitan mind of the city-dweller has been understood. The local leaders are caught in their own cobweb of tokenism and part-time political campaigning with bulk of their interests enmeshed with businesses in multi-level marketing schemes. The BJP lost its personality in Telangana – they don't make any sense, do not fight with conviction and are hence not taken seriously.
Cong-I is a leaderless organisation who are still reeling under the defeat of Lok Sabha elections. Most of their planks of minority appeasement and progressive poverty measures have already been hijacked by MIM on one side and TRS on the other. Once again, Rahul Gandhi's token visit to the University Campus has garnered eyeballs but failed to enthuse the serious voters. Getting two seats out of 150 means a lot of work to be done before anybody starts taking Congress seriously again. The party got 52 seats in 2009.
The left parties have never been taken seriously in GHMC elections because the urban voter is not swayed by ideologies like socialism.
The voter wants to see better toilets, better roads, better sanitation and infrastructure. The Communists have never been successful at that in this part of the country. The only saving grace for leaders like Narayana is that his challenge to KCR remains has been won – in letter though not in spirit. He stated that if TRS wins 100 seats, he will cut his ear. Thankfully, sympathetic voters must have heard him out on this one. TRS finished at 99 but the annihilation is almost done – though Narayana can relax for now.
TDP tally of one (on its own) is the most shocking verdict of this election and it holds many subtle and overt messages to CM Naidu. The voters in Hyderabad who were also seen to be rallying behind him in conversations about who is the real builder of Brand Hyderabad have given his party the boot. That means, the voters clearly wanted to obliterate him from the map of Telangana as they find a new benevolent dictator in Telangana in the family of KCR and KTR. It proves once again that TDP has always been fighting for a lost cause.
His theory of "two-eyes" is neither convincing nor plausible to the voters in Telangana who have moved on beyond June 2014 bifurcation of state. It is time, Naidu also moved on instead of adopting a fence-sitting approach. The State of AP is a burning cauldron of caste politics, vicious opposition mud-slinging, and slow-moving governance that is not without its own gravy train of problems. Instead of sorting them out, Naidu's ambitions of nursing hopes in Telangana by campaigning here with self and son has only boomeranged further. If unheeded, Naidu will score many more self-goals in Andhra Pradesh.
There is lot of anecdotal evidence from the current verdict in GHMC on why the Telugus who settle in a residual state have never gone back to their roots except in showing solidarity in slogan-shouting and social discussions. After the erstwhile AP was formed in 1956, the Telugus in Madras became their own masters of destiny and aligned their business and career interests with the ruling party of Tamil Nadu, ditto with the Telugus in Karnataka and Orissa and Maharashtra. The Telugus have historically been the original equivalents of Economic Men – remember that the Telugus sided with Kauravas in the Mahabharata War. Doesn't mean the ruling party is Kauravas here. It only means that the Telugus who settle in one state rarely care what happens in the other state, even if belongs to their roots. Naidu has forgotten such a simple truth and continues to compound his mistakes of taking respect from city-dwellers for political goodwill.