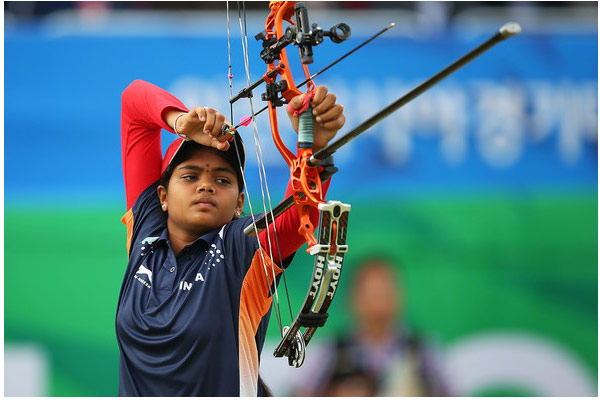 In Andhra Pradesh, the Award money offered to the successful sports persons is also up for grab. This is what had happened in the case of an archer, who was given Arjuna Award by the Government of India. The AP government, in response to the prestigious award, had announced a cash award of Rs 1 crore to the awardee, Jyothi Surekha last year. It took almost a year for the government to doll out the award which was slashed to Rs 85 lakh instead of Rs 1 crore.
Jyothi Surekha, the successful archer from the city, found that Rs 15 lakh from her cash prize was slashed and diverted to one sportsman, Cherukuri Satyanarayana, attributing him as her coach. She alleged that Satyanarayana was not her coach and her prize money cannot be diverted without her consent. But the officials of the State government and the officials of the Sports Authority of Andhra Pradesh (SAAP) have issued orders paying Rs 15 lakh to Satyanarayana and Rs 85 lakh to archer Surekha.
The young girl blamed the officials and accused them of grabbing her prize money without her knowledge and consent. She demanded that the officials pay her the total prize money failing which she would go on hunger strike.
It is a known fact that the sports bodies indulge in a lot of irregularities either in selection of sports persons or in getting sops, including government jobs, for them. The sports officials and associations persons use their influence with the government to doll out sops at their whims and fancies.
Now diversion of the prize money too had come to the light exposing the scores of irregularities committed by the sports associations in the State. It is to be seen if they correct it at least in Jyothi Surekha's case as she had exposed them now.