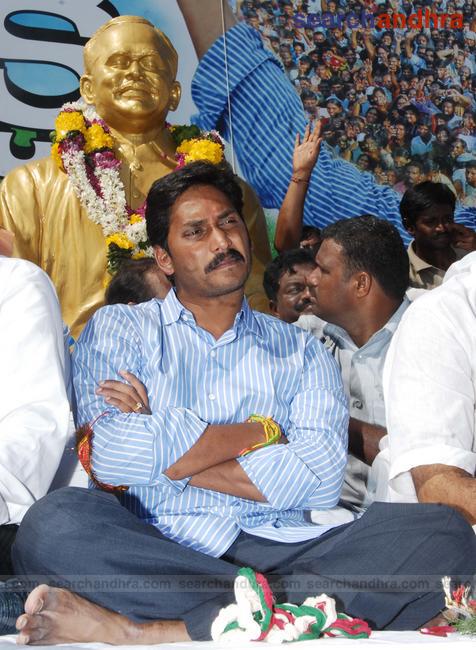 YSR Congress party president YS Jaganmohan Reddy is a radically changed man these days, at least in public. He is the youngest man leading a political party in India. He is the most politically controversial leader and also most politically persecuted man. He is the only party president in the country to have got his assets attached by ED. Arguably, India's richest party boss and the only party president to go to jail in cases related to the disproportionate assets. Jagan's too short a political career is marked by too many first rank controversies.
His was the only party which scored highest marks in the surveys before elections. All these feature have made Jaganmohan Reddy most curious personality of Indian politics before 2014. His defeat was one of the most talked about subject among the political analysts.
These unwholesome 'firsts' have not eroded his confidence in future. Jagan, though lost in elections,
has not gone on vacation to regain strength like Rahul Gandhi. The defeat and insults, instead of weighing him down,appears to have strengthened his resolve to emerge unscathed from the cases.
Even though he is the president of the party, embarrassingly he is surrounded by senior leaders,some are even veterans.To stand out among these leaders, he has to do works which these leaders can not even think of. Jagan certainly has chosen an arduous journey of agitations, tours and fasts. I don't want to attribute this to his family's factional history. Present restive Jagan is totally a product of the politics he has been perusing.
He transformed himself into an angry young man, rather, these circumstances have made him into perpetual fighter. See, how many times he organized dharnas. How tirelessly he has bee on tour. He sat on indefinite fast once in Hyderabad. He staged two fasts in New Delhi and observed two-day fast in support of farmers, who were fighting land pooling by the government. He undertook a two-day samara deeksha in Magalagiri. He sat on two-day rythu deeksha in Tanuku.
Now, he is going to stage a dharna in front of krishna collectorate in Machilipatnam on August 25, protesting government's apathy with regard to Kothamajeru viral fever victims. Similarly, next day on August 26, he is scheduled sit on a fast in against the forcible acquisition of fertile lands in river front villages in Amaravati capital development region.