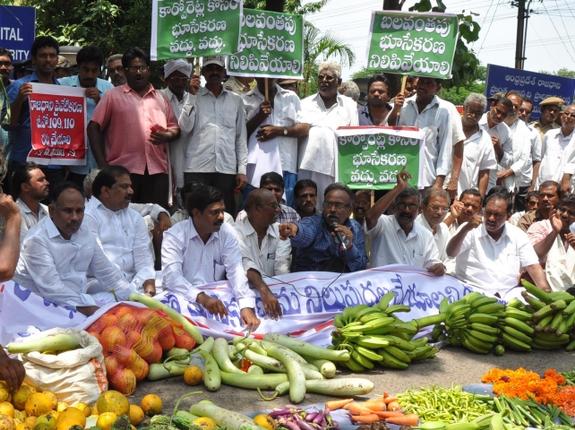 In the next few days Vijayawada, the temporary seat of government of Chandrababu Naidu, is all set to be encircled by intense political storm.
While Janasena president and movie star Pawan is going make a whirlwind tour of river front villages, YSR Congress has announced its program of agitation against the invocation land acquisition act to acquire the multi-crop lands in Amaravati capital region.
Pawan is said to have cancelled his movie shooting to visit these villages. His proposed visit has already unsettled the ruling Telugu Desam party. As per some sources in TDP, a meeting is likely between chief minister Chandrababu Naidu and Pawan. A team of ministers are planning to meet Pawan to make him understand good intention of government in acquiring the lands for world-class capital.
Any climb down by Pawan after these meetings would erode his image as a power star among the people Andhra Pradesh. Sitting unseen Pawan has raised temperature in the region by tweeting support to the people and urging the government to spare these 'green-mines' on the banks of River Krishna. Pawan opposed desctruction of the multi-crop lands in the name of capital construction.
For the past three four days farmers have been organizing dharnas in front of capital region development authority (CRDA) office. Today YSR Congress organized protest in front of CRDA office in Tullur. The party announced their program and it would culminate in party president Jagan's diksha near the CRDA office in Vijayawada on August 26.
Before that the party would organize Rastha rokho on Prakasam barrage on August 23, and on 24 , YSRC leaders stage a protest dharna near CRDA office, Nidamarru followed by a public meeting. And on August 25, the party is going to organize a bandh in support to agitating farmers in Nidamarru, Betapudi, Penumaka and Tadepalli mandals.
As all opposition parties have undeclared solidarity among themselves versus TDP government all other parties are expected joint the programs and make it a success.