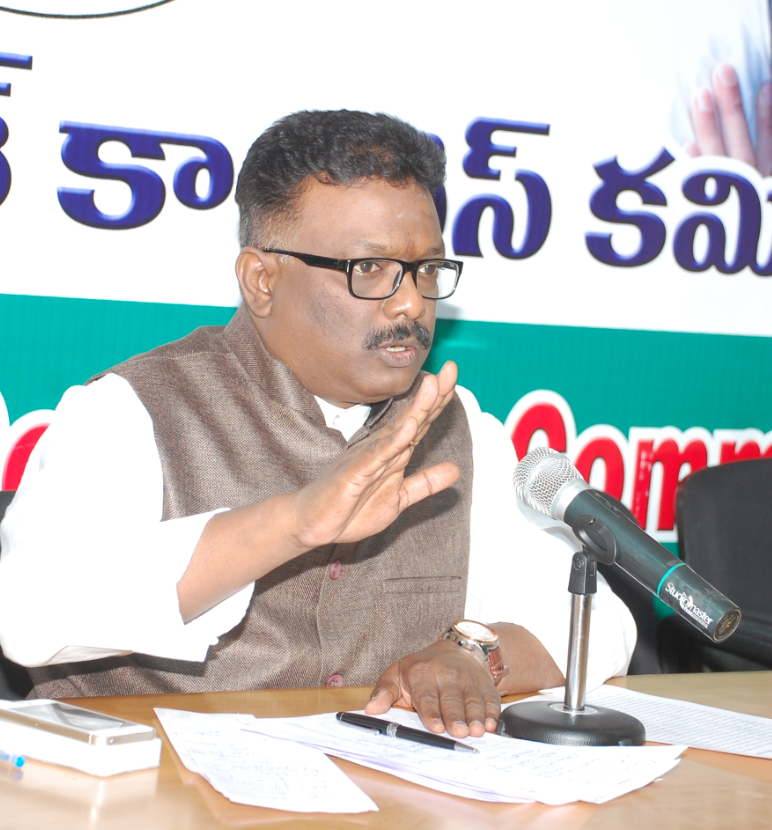 Telangana PCC president N Uttamkumr Reddy today along with his comrades staged a sit-in on Gagillapur highway in Karimanagar district opposing the KCR government decision to shelve Thotapalli project.
The party is gearing up to organize a mass movement to save the all irrigation projects started during Congress regime from being dumped by chief minister KCR. Already Mahabubnagar district is on warpath. In this backdrop, party chief spokesman Shravan Dasoju charged that the government was trying stop the Thotapalli reservoir only to save the lands of friendly rich landlord on the pretext that the project cost had gone up. Dasoju, a former professor and management executive of top IT company, spoke to T360 today on controversial irrigation policies of TRS government.
Q. Suddenly Congress has become active in Telangana and activities are moving around irrigation project. Reason?
Dasoju: TRS government is following demolition and destruction policy. And there has been no good intention behind these activities. Every project is scam ridden.Congress will reveal all these in due course. As of now, what is worrisome is TRS is abandoning all irrigation projects started during Congress regime with one pretext or the other. Examples abound. For instance Pranahita-Chevella and Thotapalli.
Q. What is the problem with Thotapalli reservoir?
Dasoju: The project is in Karimnagar. The government has decided to abandon it for the reason that the delay in the execution of project resulted in cost escalation. The real issue is about 140 acres of a landlord friend of the government fall in submerged area. The project is so crucial for the farmers of backward region of district that it would bring 49,000 acres into cultivation.This reservoir was intended to provide water to Husnabad region.It is proposed near Obulapur village and foundation stone was laid for the project in 2007 by the then Chief Minister YS Rajashekhara Reddy. About 1400 acres have been acquired and farmer were paid a compensation at the rate of Rs 2.10 lakh. Also, an amount of Rs 375 crore have already been spent on digging of a tunnel. Now you want to abandon and do not want to give the lands back to farmers.
Q. What are the other projects being shelved by the TRS government? What could be the reason?
Dasoju: Projects like Yellampalli, Flood Flow Canal, SRSP, Kaleswaram (Karimnagar distrit), Devadula(Warngal),Kalwakurthy, Bhima, Nettempadu (Mahabubnagar),SLBC in Nalgond are in hit list. All these projects could be completed with fraction of budget. Instead of completing these projects, he chief minister is planning new projects. There are two reason-one, these projects are initiated by Congress, and two, huge commissions are involved.
Q. What is your plan to save these projects?
Dasoju: Congress is planning a mass movement. PCC president Uttamkumar Reddy is himself leading the movement against the shelving of Thotapalli while MLA DK Aruna organizing resistance against the abandonment of Mahabubnagar district projects. Today PCC president Uttam, MLA T Jeevan Reddy, former minister D Sridhar Babu and former MP Ponnam Prabhakar staged a dharna on Gagillapur Highway. People participated in dharna in great number. Even CPI is also opposing the move against Thotapalli. CPI district secretary Ramgopal Reddy has also launched an agitation.
Q: Can you force the government to take back its decisions?
Dasoju: We are in democracy. Our only tool is mobilizing people against anti-farmer moves of TRS government. If government doesn't come around then people would punish the ruling party at an appropriate time.