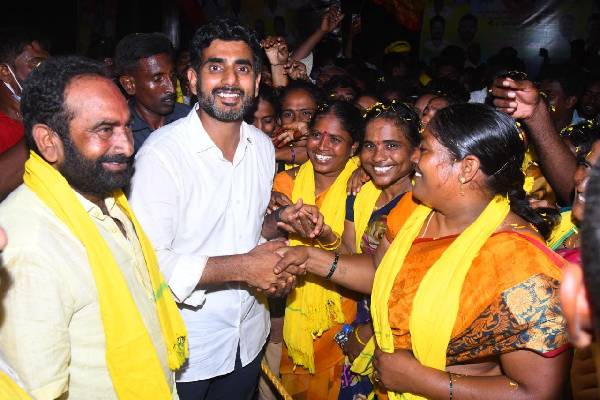 The coming TDP government will accord highest priority to the irrigation and drinking water projects in the State, announced TDP general secretary, Nara Lokesh, on Monday.
The farmers of Petasannigandla of Macherla Assembly constituency in the combined Guntur district met Mr Lokesh during his Yuva Galam pada yatra and submitted a memorandum in which they said that the TDP government had launched lift irrigation works with Rs 3.80 cr but this Government is totally neglecting it. They appealed to Mr Lokesh to complete the pending works soon after the TDP forms the next government.
Responding to them, Lokesh said that this bankrupt Government, which could not even take up repair works to the project gates, can take up new projects. While the TDP government had spent Rs 68,294 cr on irrigation projects the YSRCP Government has spent only Rs 22,000 cr and the gates of Annamayya, Pulichintala and Gundlakamma projects were washed away, the TDP general secretary pointed out and promised to complete all the works once the TDP is back in power.
The people from Karempudi mandal complained of lack of drinking water and poor condition of roads. They also told Lokesh that they are facing untold hardships due to frequent power-cuts and made an appeal to him to resolve these issues after the TDP is into power again.
This Government is not in a position even to meet the drinking water needs of the people, Loeksh said and promised to supply safe drinking water soon after the TDP forms the coming government. Pointing out that the TDP government had laid roads to an extent of 25,000 km in various parts of the State, Lokesh said that this Government could not even undertake repairs to the damaged roads. He assured the Karempudi people that the TDP will certainly resolve all their problems and houses will be built for all those who have no roof to live-in, once the party is into power again.
When the representatives of the Muslim community from Karempudi wanted shadi khanas, Lokesh promised them that the coming TDP regime would permanently resolve all their issues. Expressing concern on the increasing attacks on Muslim minorities, Lokesh said that all those who are behind such attacks will be taken to task.