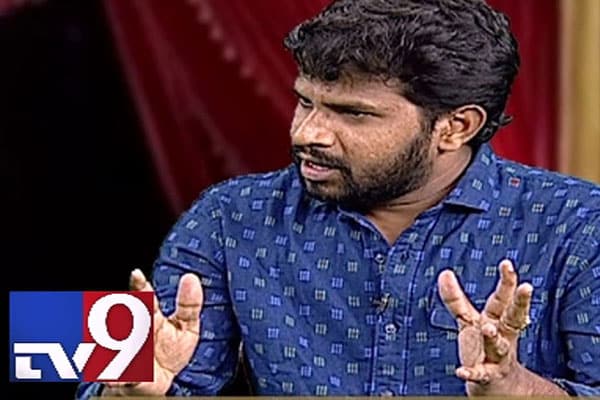 Recently there was some debate in TV9 that had Hyper Aadi and his satires as the focus. Telugu360 reported how Hyper Aadi embarrassed TV9 in that program. Seems, TV9 was hurt, at least that is the impression that one gets when they watch very recent program in TV9 that again focused on Hyper Aadi. But it seems Hyper Aadi embarrassed TV9 yet again.
Actually, Hyper Adi recent skit had some controversial dialogue regarding orphans. When other character asks him "who are called orphans?", he replies "Athi gaa aasha paDE mogaaDiki, athigaa AvEsapaDE aaDadaanikee puTTina santhanamE, anaadhalu" (Orphans are those who are born to highly greedy man ad highly charged woman). It's actually a Rajnikant dialogue and Adi tried to use it in a funny situation. But the joke actually boomeranged as it hurt orphan children who lost their parents because of various reasons. This particular dialogue from Aadi seemed to be crossing the line a bit and even some viewers of the program.Some orphans and women organizations filed police case on Hyper Aadi and Jabardasth show. Various women organizations even had a round table conference on this issue. Later, TV9 convened a debate that lasted for more than 3 hours. Representatives from orphanages, an orphan girl, social activist and critic Kathi Mahesh were in the debate and almost all of them targeted Aadi demanding an apology from him on the same Jabardast program. Then, Hyper Aadi entered the live debate. Initially he tried to defend himself but later he apologized the orphan girls. Had Hyper Aadi stopped here, the matter would have been ended smoothly. But Hyper Aadi dared to rub the shoulders on the wrong side with TV9 and yet again embarrassed TV9. In previous debate, he embarrassed TV9 – when asked "On last Sunday, when there was boat mishap in the state, TV9 telecast debate with Kathi Mahesh for 1 hour just to criticize Hyper Aadi. Is it necessary to telecast that program during that time?".
Hyper Aadi asked TV9 a candid question – "If what Jabardasth is doing is vulgar, what would you call "Weekend Masthi" program done in TV9 sometime back with the same Jabardasth artistes?". He asked TV9 anchor, dont cut my call and don't deviate from the topic and answer straightly to this question. In fact TV9 anchor could not answer the question and his face turned black. Other participants in the debate came to the help of TV9 anchor and they bombarded Aadi with several other questions and during which time anchor could recover. Story didn't end there. Participants demanded Aadi to apologize only in the Jabardast program – not in facebook live or any other platform so that it would reach maximum audience. Aadi told he would apologize in the same debate in TV9, for which participants did not agree and insisted to apologize in Jabardasth program. Then, Aadi delivered one more punch that is also directed at TV9. He questioned the participants – whether they believe TV9 has lesser viewership than Jabardasth. This again embarrassed TV9 anchor.
But there are a few pointers which Hyper Aadi need to understand. First, he has to understand – fighting against media or social media is always a losing battle. With his wit and spontaneity, he may win few arguments but even then, it will be a zero sum game for him by the end. There are several instances in the history, when the celebrities who got success in their early twenties made some presumptuous comments which they repented later – For e.g Jr NTR, Simbu and Ram Charan later in their career repented the statements/ decisions they made in their early days of career. Hyper Aadi seems to be on high now with his instant success and becoming celebrity too quickly. He always had an opportunity to convey his opinions humbly which he didn't bother to utilize. Aadi must have remembered this and showed some humility despite the fact that he had some valid arguments. Agreed, his argument that TV9's weekend Masthi also had same concept as Jabardasth; Agreed TV9 might have selectively targeted him (TV9 did not have similar debate when Bala Krishna or other big celebrities made even harsher comments); Agreed that excessive screen duration that TV9 dedicated to this issue (more than 4 -5 hours on single day) is not really in proportion with the severity of the issue at macro level of the state issues. But STILL Aadi should have understood it is a zero sum game and avoided all this hullabaloo. If he doesn't understand now, he will understand it later, but that process will be definitely harder and troublesome!!!!