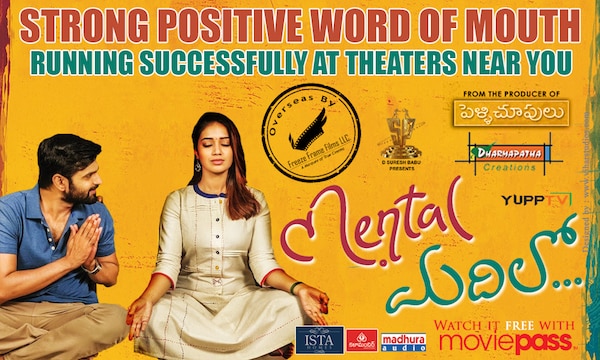 Curious title, quirky teaser and soulful music pulled me into the theatre and i could not be more glad to have made this film my weekend watch!
The magic created by debutant director Vivek Athreya in Mental Madhilo is visible right from first scene-first frame.
Aravind Krishna, a confused soul who cannot even decide what shirt to wear is always pushed to a corner to take critical decisions and every single time, he puts up a confused expression, as audience we cannot but empathise with him!
No melodramatic monologues, no running around trees songs to display heroine's glamour, and no fights to display hero's machismo- yet the film manages to keep us hooked to our seats the entire time.
Not just the protagonist, but every single character is entertaining, natural and adds value to the film. In fact, i don't remember the last time i have heard such realistic conversations on screen in Telugu cinema.
The portrayal of different relationships such as mother-daughter, hero-his roommates, father-son is so natural that makes it all the more relatable to our everyday lives. And this is what makes the film an wholesome family entertainer in its true sense. The background music, songs and the entire set up is pure and fresh like the first rain of a monsoon.
This film has a flavour that's as unique and as authentic as Guntur gongura Pacchadi or a Hyderabadi Biryani. It's an experience you wouldn't want to miss!!!
Press note released by: Indian Clicks, LLC