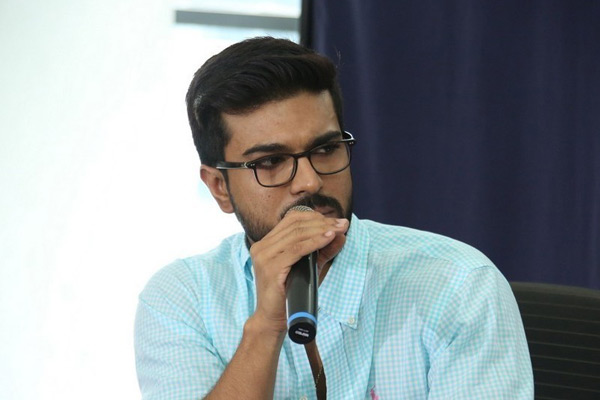 Actor Ram Charan has donned the producer's hat for the first time for his father Chiranjeevi's comeback Telugu film "Khaidi No 150". Ahead of the film's release on January 11, he says he feels more nervous as a producer than he has ever felt as an actor.
But he says he is not nervous because he has invested in the film.
"It's not about the money. But it's a very important film for my father who is making a comeback after nine years. He is the main support system of our entire family. This is something I'm giving in return for everything he has given me. As a producer, I'm tensed and excited. I have never been so nervous even before my film's release," Ram Charan told IANS.
He says a producer's role is very challenging, and gives full credit to his team.
"Although I could not spend as much time I wanted to spend on the project, I had a very hardworking and passionate team to rely on. Then, there was my director Vinay (V.V Vinayak), who made everything so easy and simple for me," he said.
Having only watched the film in bits and pieces so far, the "Magadheera" actor is thrilled to see his father back on the screen.
"I intend to watch it in the theatre with audience. It's going to be a treat in terms of what fans can expect from dad and his movies. I need to thank director Murugadoss for giving us a wonderful subject and we've done justice to it by keeping the soul intact," he said.
An official remake of the A.R. Murugadoss-directed Tamil blockbuster "Kaththi", the film marks the reunion of Vinayak and Chiranjeevi after a decade.
"Dad and Vinay had already given us a blockbuster in the form of 'Tagore', which was also Murugadoss's story. This reunion is special because it has brought together a very successful combination and I feel 'Khaidi No 150' is going to be a better film than 'Tagore'," he added.
Amidst the tension around the release of "Khaidi No 150", Ram Charan is relishing the success of his latest release "Dhruva", which clicked at the box office despite the demonitisation gloom.
"The success of 'Dhruva' has given me more satisfaction than any of my previous hits, simply because the audience accepted the film even though it was experimental. I really hope this kind of acceptance makes experimental cinema the new mainstream cinema," he shared.
Will he continue experimenting with his projects?
"It has certainly given me confidence to attempt something new. Had 'Dhruva' not succeeded, I don't mind calling these films experimental. Now, I only see this as different kind of commercial cinema," he explained.
Now, Ram Charan has a yet-untitled project Telugu project with Sukumar in his kitty.
Remind him that his contemporaries such as Mahesh Babu and Allu Arjun have jumped on the bilingual bandwagon; he says he isn't far behind.
"After Sukumar's project, I'll be doing a bilingual, and I think it's time to venture into other industries as it allows one to explore a new market," he said, confirming that he might also collaborate with Mani Ratnam soon.
"We're still in talks. We haven't spoken about the subject yet. Once we have the clarity about what we're doing and when we're doing, we will officially announce it," he said.