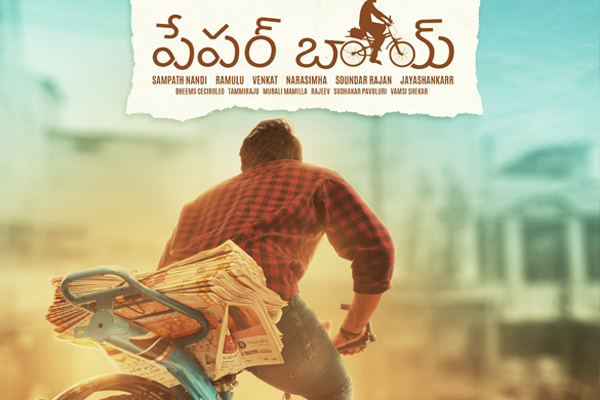 PaperBoy Movie Review Rating
Telugu360 Rating 2.25/5
Story:
Paperboy is about a poor boy Ravi's fascination towards a rich girl Dharani. Ravi, a B. Tech gradaute, works as a paperboy to help his working-class parents. Eventually his fascination towards Dharani turns as love. Dharani too likes Ravi's self-respect, poetic heart. Dharani's father, Rich and kind hearted Gadwal Reddy, accepts her proposal to marry Ravi. While everything going on happy note, her brothers arrive from USA.Rest of the story is about how her brothers try to disrupt marriage arrangements, how the couple overcome the hurdles
Analysis:
About thirty minutes into the film,audience may jump into early conclusion that 'I'm about to watch a film that offers something different than routine glossy love stories'. Ravi's characterization is good, santosh shobhan's performance as Ravi is quite natural. Director JayaShankar presents a simple familiar love story in an appealing manner to the class audience in first half. Senior director karunakaran 's mark shot making won't go unnoticed in Jayashankar's work. Overall first half is predictable but satisfactory.
Trouble starts when the film enters post interval phase. As there aren't many turns or sub plots, movie gets dragged on single point. After Dharani's brothers come from USA, things even more slide down. Bitthiri Satthi, Vidhyullekha Raman's comedy thread is over the top and wrong timely placed.
Within the unsatisfactory 2nd half, climax is another drawback. It is too cinematic, melodrama added. Some of the songs like 'I think i am in love with you 'are cool. Director JayaShankar has showcased few strengths,but falls short in overall packaging.
Performances:
Santosh Sobhan is quite natural as paperboy Ravi, Priyashri as Gadwal Reddy's daughter Dharani is okay. Another heroine Tanya Hope role is limited, okay.
Positives:
First half, pleasant visuals
Dialogues
Negatives:
Predictable, flat story
Poor comedy in second half
Too melodramatic climax
Verdict:
Paperboy is a Rich Girl, Poor boy themed predictable love story with some refreshing treatment here and there. Until First half there are few impressive elements, but second half is quite boring. Too cinematic writing takes the graph to nosedive after interval. Overall, paperboy disappoints!
Telugu360 Rating 2.25/5
Release Date : 25th May, 2018
Director : Jaya Shankarr
Music Director : Bheems Ceciroleo
Choreography : Soundar Rajan
Editor: Tammiraju
Producer : Sampath Nandi
Starring : Santosh Shoban, Riya Suman