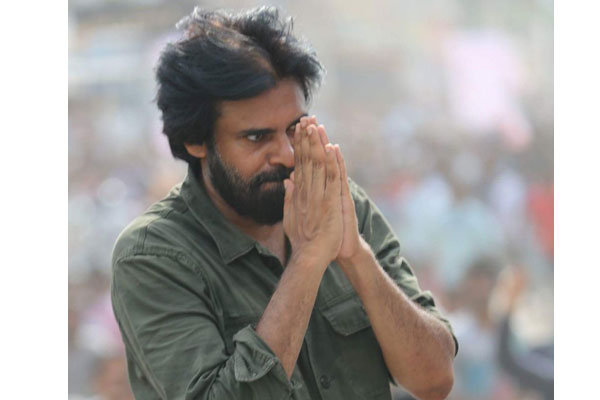 On Pawan Kalyan's birthday, his fans, family members and Tollywood contemporaries showered wishes through social media on his special day. His fans took it to next level by storming social media with the biggest ever birthday trend in India. The hash tag '#HBDJanaSenaniPawanKalyan' was trending in all social media platforms and there were more than 5 million tweets in less than 10 hrs. Many celebrities also wished him and most of these tweets have one thing in common as the celebrities say, he is an INSPIRATION for them.
Upasana Kamineni tweeted on behalf of Ram charan and posted video of Ram Charan going for paragliding. The tweet mentioned Cherry was inspired by Pawan to do such daring activities. The tweet read, "Dearest babai , U've always inspired me to do daring things in life & films, this is for u. did it with some help the first time. have a great birthday & keep inspiring us. #HappyBirthdaypowerstar #HBDPSPK #RamCharan"
Stylish star Allu Arjun tweeted, PK has left the comfortable life for the sake of better society, as he tweeted, " Happy Birthday Kalyan Babai . I really admire your efforts & struggle for a better society in-spite having the luxury of a comfortable life . Your sacrifice has won millions of hearts like mine . More Love and Power to you . #HBDJanaSenaniPawanKalyan"
Sai Dharam Tej called PK a leader as he tweeted, "To the man who had it all…who has given up everything for "US"… to the "LEADER" wishing you a very happy birthday #HBDJanasenaniPawanKalyan ". Allu shirish tweeted, "Kalyan babai, you've been a big influence on me all these years. Along with millions of your fans, I respect & support you in your journey to serve the people. God is always on your side. Wishing you a very happy birthday. @PawanKalyan #HBDJanaSenaniPawanKalyan"
Manchu Manoj's tweet made fans of Pawan very happy. He wished all the best for Janasenani's political future. He tweeted, " Happy Birthday to powerstar @PawanKalyan garu. This year celebrations are quite special because by the next one you'll be a political leader.All the very best in the coming elections Big Brother:) Super success & more power to you always! HBDJanaSenaniPawanKalyan". Manchu Lakshmi re-tweeted Manoj's tweet and wished" Happy happy birthday @PawanKalyan garu… ditto to what manu said.. onward and upward. Keep on inpsiring"
Actor Nithin, who is diehard fans of Power star tweeted, "Happyy birthday to our POWERSTAR I love you more than all the STARS in the sky #happybirthdaypowerstar #HBDJanaSenaniPawanKalyan"
Another diehard fan, actor Nikhil called PK is genuine and incorruptible as he tweeted, " Kalyan Sir, Everyone of all Caste,Religion,Region nd Political Parties know deep in their hearts tht U are Genuine, Honest nd Incorruptible. Wishing u a Happy Birthday nd complete success in what u want to achieve for the ppl. #HBDJanaSenaniPawanKalyan #HappyBirthdayPowerStar"
Hero Ram Potineni tweeted –
"We know your motive..
when we see you fight..
We saw you leave everything..
Just to make things right!
Happy Birthday @PawanKalyan garu.. #Respect .. #Love – R.A.P.O"
Director Maruthi recalled that his career in Tollywood started with designing logo for "Johnny" movie and tweeted, "Maruthi director Started my film journey with designing J logo for Johnny, thank you #Powerstar @PawanKalyan garu for the inspiration. Where ever u are what ever u do , U are my /our fav person for ever & ever #HBDJanasenaniPawanKalyan "
Harish shankar recalled Gabbar Singh days and tweeted wishing Power star. He also tweeted, about Special Screening of Gabbar Singh in a theater in Vizag today and thanked them"
Meher Ramesh called PK brother and tweeted creatively. He tweeted, "Dear Brother @PawanKalyan ✊🏻You brought the POWER to FILMS & Now POWER to PUBLIC ✊🏻 Wishing to see you in POWER because 'WE' are Always part of your PO'WE'R #HBDJanasenaniPawanKalyan "
Director Koratala, writer Kona venkat and many others too wished him.
Actress Samantha called PK a selfless person and role model, as she tweeted, "Happy birthday dear Powerstar .. a role model and an example of selflesss giving to this generation . We are proud . #happybirthdaypowerstar"
Rakul Preet Singh also called him an inspiration and she tweeted, "Happppyyyy bdayyyy @PawanKalyan garu!! May you have an amazing year and may u continue being an inspiration always"
Heroine Kajal posted pic of their song in Sardar Gabbar Singh and wrote, "A very happy birthday to an actor par excellence, everyone's favourite Powerstar @PawanKalyan Garu!! Wish you health, happiness and contentment always :)"
Heroine esha opined, PK is beyond success and failure as she tweeted, " Happy Birthday to one and only #PowerStar #PawanKalyan Garu who is beyond success and failure. 💐🤗#HBDJanaSenaniPawanKalyan "
Pragya Jaiswal tweeted, "Wishing the beloved and the kindest @PawanKalyan Sir a very Happy Birthday..May you achieve everything big and may all your efforts flourish with wonderful colors!! "
Heroines Mehreen, Lavanya, Anupama, Adah Sharma wished Pawan
Not only Tollywood, Lokesh and CBN also wished him.
Lokesh tweeted, " Many happy returns of the day @PawanKalyan Garu. Wishing you good fortune and loads of happiness".
Actually Hari Krishna's birthday also today. CBN remembered Hari Krishna in his tweet and wished Pawan as he tweeted, "Happy birthday @PawanKalyan. May you be blessed with good health."
Overall, his fans and celebrities showered wishes on PK on this special day.
Telugu360 is always open for the best and bright journalists. If you are interested in full-time or freelance, email us at
Krishna@telugu360.com