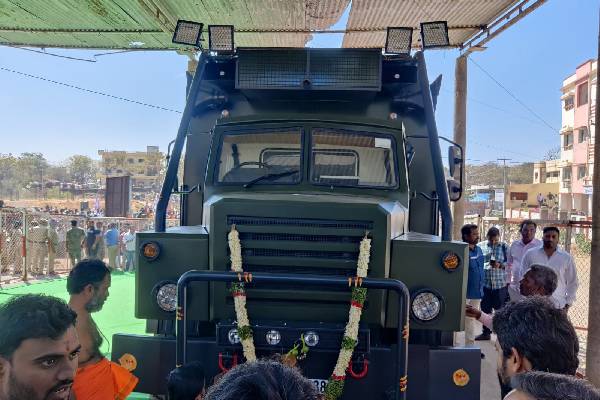 Jana Sena chief Pawan Kalyan's election campaign vehicle, Vaarahi, would be taken to the Kanaka Durga temple atop Indra Keelandri in Vijayawada on Wednesday. The vehicle was taken to the Sri Hanuman temple at Kondagattu in Jagityal district of Telangana state.
The vehicle would be taken to the Kanaka Durga temple on Wednesday. After the ritual vahana pooja atop the hill, the vehicle would be taken to the Jana Sena office at Mangalagiri.
Pawan Kalyan is also scheduled to be present during the pooja at the Kanaka Durga temple and is scheduled to stay in the party office for the next three days. He would be chairing a meeting of the party leaders and social activists on the SC, ST sub-plan funds by the state government.
The Jana Sena chief would also participate in the Republic Day celebrations at the party office on January 26, before leaving for Hyderabad.
The ruling YSR Congress leaders have expressed doubts over the colour and make of the Vaarahi vehicle. They raised objections to the use of olive-green colour which was exclusively permitted to the defence vehicles.
A senior official of the AP Road Transport Department also raised doubts over the make of the vehicle, though it was registered by the Telangana transport department.
It is to be seen if the Andhra Pradesh transport department officials would lay their hands on this vehicle once it reaches Vijayawada or just leave it to avoid further controversy.
Pawan Kalyan had already dared the ruling YSR Congress leaders and the state government to touch his vehicle and face the music!