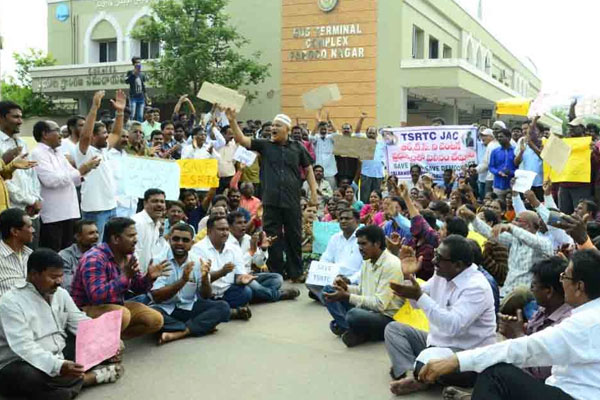 In a shocking development, the KCR Government arrested RTC JAC Convenor Aswathama Reddy from a protest meeting at Sundarayya Bhavan park. JAC Co-convener Raji Reddy, Venkanna, others were also taken into custody. The arrests were seen as a new strategy of the KCR Circar to suppress the agitationists. On his part, Aswathama Reddy gave a call to the RTC employees to continue their strike till the last minute. He expressed shock that CM KCR is adopting a dictatorial stand instead of resolving the workers' problems.
Aswathama Reddy demanded that the government leave its adamant attitude and begin talks with the employees. He asserted that the RTC employees are determined to continue the stir by facing any hardships. Obviously, KCR is unhappy that the RTC strike is transforming into a bigger platform for all opposition parties to come together.
The RTC JAC is getting support from the other employees unions as well. CITU national vice-president Padmanabhan expressed surprise how a leader like KCR who was born in agitation is now suppressing the strike.