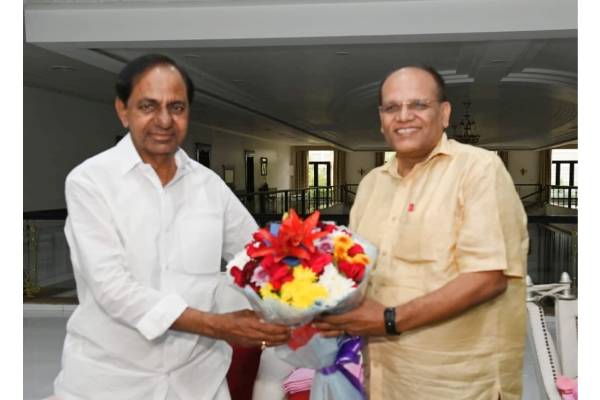 The Telangana government has appointed retired IAS officer and former chief secretary Somesh Kumar as chief advisor to Chief Minister K. Chandrasekhar Rao.
Somesh Kumar has been appointed as the chief advisor in the rank of a Cabinet minister.
Chief Secretary Santhi Kumari issued a Government Order in this regard on Tuesday.
Somesh Kumar's appointment came three months after he took voluntary retirement, weeks after he was shifted to Andhra Pradesh following a court order.
Somesh Kumar was removed as Chief Secretary of Telangana after the High Court quashed his allotment to that state.
On January 12, he had reported to Andhra Pradesh government as per orders of the central government. He had subsequently called on Chief Minister Y.S. Jagan Mohan Reddy.
He was not given any post on his request as he was also not interested to continue in service though it ends in December.
Somesh Kumar, who had served as Chief Secretary of Telangana for three years, was considered very close to Chief Minister KCR.
Telangana High Court on January 12 had set aside the order of the Central Administrative Tribunal (CAT), allocating Somesh Kumar to Telangana in 2016.
The same day Department for Personnel Training (DoPT) of the central government relieved him from the state government of Telangana and directed to join the Andhra Pradesh government within two days.
CAT's Hyderabad bench had passed an order on March 29, 2016 allotting Somesh Kumar to Telangana.
Following bifurcation of united Andhra Pradesh into two separate states of Andhra Pradesh and Telangana in 2014, the Union government had re-allotted IAS and IPS officers working in the undivided state to the residuary state of Andhra Pradesh and the newly created Telangana state.
Somesh Kumar, an IAS from the 1989 batch in Bihar, was allotted to Andhra Pradesh by the DoPT.
However, Somesh Kumar had moved the CAT and secured an order staying his allotment to Andhra Pradesh cadre. Since then, he continued in Telangana and became Chief Secretary in 2019.
DoPT had filed an appeal in the High Court challenging the stay order of CAT, Hyderabad branch.