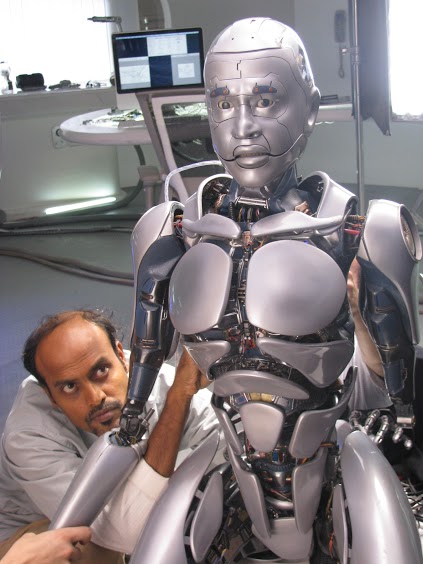 Vijayawada born Vadlamudi Srinivas Murali Mohan makes it big as a visual effects designer. He has won three national awards and there is no stopping him. His next big project is Bahubali; from being an amateur logo and title designer to becoming one of the most popular VFX Supervisor in Chennai, he has come a long way. This simple and humble man lives with his wife Philomena and child in Chennai and makes his Telugu debut finally.
What is the percentage of visual effects in Bahubali?
Ninety percent comprises of visual effects. It is a period film and there are no set locations, we had to create them. Some films are based on history and since it is a story that had already taken place, one can go accordingly. Here Rajamouli used his imagination and created the story and he had ample creative liberty. For a fiction like this the scale, grandeur is unimaginable. He showed us that in olden days our ancestors lived like this, he showed it in a believable manner. More than emotions, if there is VFX in the background, we can create a story like this. VFX on the set is small, in live location but after we put everything on green and chromo screen and set up the rest of the screen as a digital extension. There is a waterfall sequence in the story and we were to go to Kerala and shoot the waterfall but he wanted a huge waterfall that would fall from the height of a sky and that is possible only through VFX. Since it is a period film, all non existing locations can be created digitally, it is comfortable.
[pullquote position="left"] I worked for all Shankar's films and looking back at the technology used then you won't be impressed at all. But at that point of time and within the budget given to me I think I did a fairly good job. [/pullquote]
 What would be the impact?
We began with the story and enhanced it on paper and converted it into a visual. Scale wise this is the biggest, money wise I don't know. People abroad think India is poverty ridden nation but Rajamouli wanted to showcase the luxurious culture and the hugeness comes out of this culture. When you convert it visually it looks very believable and people abroad will know India was this lavish aeons back.
How many worked on VFX?
Around 600 artistes, from 15 to 16 studios all over the world worked on it. A Bison sequence is made in an Indian branch of the foreign company. We can't go to a Bison and stand in front of it. We can't trouble the animals, but now we have the capacity to mould the subject as per our requirement in a photo realistic manner. All action has been created on CG, the necessity of animals has been cut down and we could bring any kind of emotion we wanted through it digitally for example the elephant gets up stands and does namaskar.
 Has special effects been upgraded post Robot?
I worked for all Shankar's films and looking back at the technology used then you won't be impressed at all. But at that point of time and within the budget given to me I think I did a fairly good job. The next five years you will see the highest upgradation in special effects. What was shot then was the benchmark at that time. Anything digital is CG and CG is part of visual effects. In Brothers both people are stuck together, we shot them separately and  replaced the head, we didn't divide them on computers. What you shoot on live differently and mix is CG (special effects)and what you  manipulate over all is visual effects.
 How did you four important men work together?
Budget and time is important for technicians. Rajamouli and his father told a story three  years back. One and a half year was spent in pre production. The story board, concept and thought is father and son's vision. Once the story creation has been done by the director, me, Senthil, Sabu Cyril would convert it to paper. The first part comprised of – how to use the concept thought, how to shoot and bring it on screen. When DoP gives the visuals how do I convert it digitally. Once that has been done, Sabu garu would in an area would put up a set, use blue screen and green screen and after the shoot I would execute it digitally. It is a combination effort of four people. The artiste's talent is unbelievable..we show them a drawing of a palace and tell them to act when there is nothing existing there physically. They stand in front of an empty blue screen and they imagine and act. It is tough and  our job became comfy as all the artistes were extraordinar
 Your first film with Rajamouli?
Yes and he wanted me in Magadheera it didn't happen. Rajamouli also knows what all we know; so that too became easy since he already has knowledge of visual effects, he would give inputs. We all were here for three years since pre production. On paper there is concept ..that there would be a huge waterfall and it is not the level you imagine..everyone has a different level of hugeness. Before we embark we would base the concept on the visual we had on mind. There is no location so Sabu Cyril suggested the waterfall and area beneath was present in Kerala and it was decided we shoot a small portion and the rest would be created on VFX. Senthil knew how huge a waterfall would look if the camera is placed in a particular angle. We would take that frame that has been shot and draw and go for shoot. In post production it was all about how to execute and the budget allocated for it and picking the best studio to do the job. The film has 90 percent visual effects and it is there in every frame, we took support of 6 studios. The shoot would be during the mornings. In the evening we would work on it till 12 in the night, would be up at 6 am again for work. For 3 years this would continue and would sleep 3 or 4. hours. The excitement is that we would shoot slowly bit by bit..and the output would give us happiness. Whatever we visualised is coming true, it is like predicting future.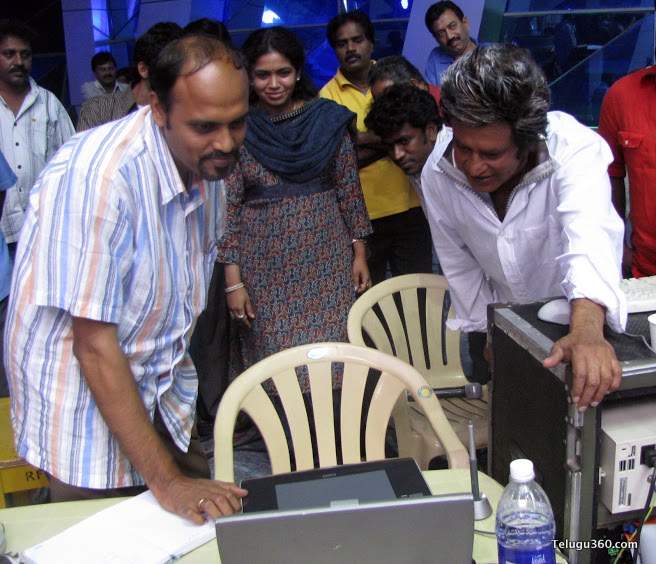 (Sunita Yalavarthi)