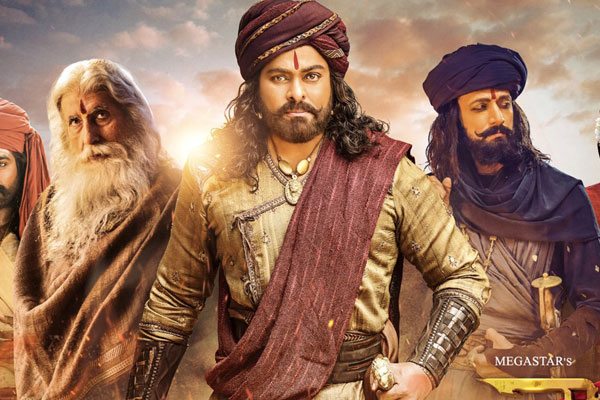 "Sye Raa Narasimha Reddy", mega star Chiranjeevi's magnum opus, is all set to release on 2nd October on the occasion of Gandhi Jayanthi. As Dasara holidays also starting from the same date, the movie is expected to collect huge, if it gets positive talk on first day. Pre-release event of the movie is scheduled this evening. Surprisingly, the telecast rights of this event is given to Sakshi Channel and that puzzled mega-fans.
Sakshi boycotted Pawan's cinema news as well :
Ever since Pawan floated Janasena, Sakshi has been writing negative news on Pawan. But that is understandable as Jagan, the owner of this media house, is running another party. However, even in cinema page also Sakshi started completely avoiding Pawan. When Pawan was chief guest for launch of NTR's movie Aravinda sametha, Sakshi covered the news without mentioning chief guest.
Click here:Is "Sakshi" insecure about "Pawan"?
Sakshi has been doing the same for last couple of years. Recently, when Pawan attended launch of Telakapalli Ravi's book, Sakshi gave the news by cropping the photo and deleting Pawan's photo.
Click here:పవన్ పుస్తకావిష్కరణ సభ వార్తలో పవన్ ఫోటో డిలీట్ చేసిన సాక్షి
As Ram Charan himself is producer, this move puzzled fans:
By seeing this biased and manipulated news in Sakshi, many mega fans stopped believing Sakshi on the news related to mega fans. In this background, 'Sye Raa' rights being given to Sakshi came as shocker to mega fans. If producer is outsider, it could have been justified saying, it is the decision of producer, who invested money for this magnum opus. But, incidentally, producer of this movie is also Ram charan and no logic seems to justify this move. from the point of view of fans.
Similar other incidents:
During Bahubali 1 pre-release event, Telugu people were so curious to see how would be the event but the rights of that movie were given to TV5 and that surprised many as TV5 was not that popular and that was not telecast (at that time) in some areas. Many criticized Rajamauli and team for this saying, instead of trying make more money through the event, they could have ensured that event is watched by all Telugu audience by giving this event to more popular channel. Now also many people are wondering whether Sye Raa unit preferred to make more money by giving the rights to Sakshi.
Counter argument:
However, some mega fans are giving counter arguments that it is the marketing team that decides whom should be given the telecast rights based on several parameters. However, this argument doesn't hold good in our industry as even directors and producers can't go ahead without getting nod from Mega star. Some others say, Chiranjeevi wants to convey that he is "Andarivadu" and his movies are not impacted by politics. But no counter argument could satisfy mega fans and they are still puzzled by this move.
P.S: People are curious to see whether Sakshi completely telecasts Pawan's speech or cuts it short or completely avoids his speech. We will have wait for few more hours to know this.