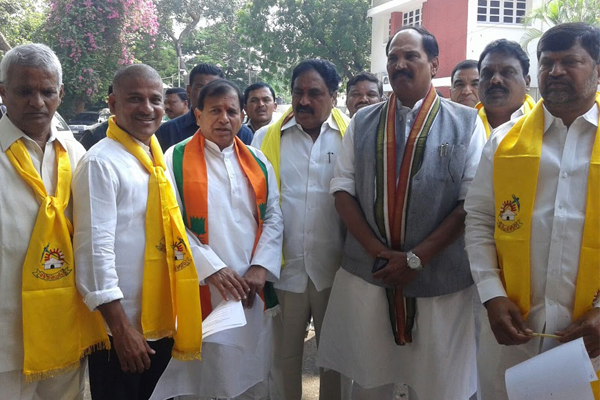 All opposition parties in Telangana have given a call for state bandh on October 10 demanding one-time settlement of remaining loan waiver from the government. They said the opposition parties had been compelled to call the bandh as the farmers' suicides were happening unabated and about 200 farmers committed suicide during the seven days the T-Assembly functioned.
The parties which met this morning in Assembly premises decided to go ahead on the bandh call as the chief minister chose not to concede their demand. The parties, Congress, TDP and BJP today flayed chief minister KCR for his insensitivity and intrasingency towards farmers.
After the meeting, BJP leader chintala Ramachandra Reddy said chief minister KCR's two-hour long speech on the floor of Assembly did not give hope for farmers of Telangana, who were embracing suicide as the solution to their crisis. PCC president N Uttamkumar Reddy said the all suicides were murders by the state. Chief minister was not at all ready to address the issue sincerely, he alleged. " We won't leave the government till the one-time loan waiver is implemented.," he said adding that government was showing the death toll due to suicides reduced.
TDP Telangana president L Ramana also called upon the people to come forward to save the lives of farmers by participating in the bandh. Congress city president Danam Nagender urged the business houses and traders in the city to make the bandh a success and express solidarity to the suffering farmers. All the leaders said they would concentrate in making the bandh success in Hyderabad , as capital city bandh alone would put pressure on the government. The leaders were critical of the Government attitude towards running the Assembly. " The chief minister said he would run the house for 15 days. Finally, it ended up a seven-day affair. The entire opposition had been suspended . The government adjourned the house sine die as if there was some urgent work more important than the suicides of farmers. Finally it turned out that Chief Minister was holding a TRSLP meeting to discuss Narayankhed bypoll," they said.
Congress will organize a rally from Charminat to secunderabad on bandh day.