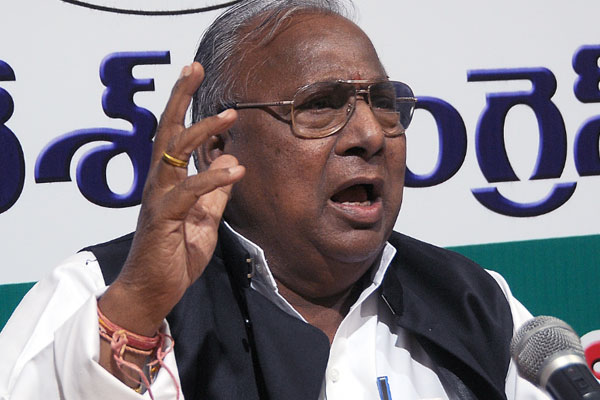 Congress senior leader and Rajya Sabha MP is embarking on a Dharna spree from tomorrow. He will conduct dharnas and Rastra Rokos in all district headquarters starting August 27, "to expose the Prime Minister Narendra Mod government's brazen attempt to protect corrupt BJP chief ministers and union minister who are involved in scams", he said. Hanumantha Rao, talking to T-360 from Narayankhed, where he was attending the funeral of Congress MLA Kishta Reddy, said his first Dharna would take place in Warangal on Thursday at 10.30 AM.
Rao condoled the sudden demise of Kishta Reddy on Tuesdsay, who, he said an ardent Congress man. His death was a great loss to the party, he added. Talking about his program, Rao said Congress president Sona Gandhi and Vice president Rahul Gandhi had successfully cornered the BJP leadership and Prime Minister Modi on the corruption charges against Sushma Swaraj, External affairs minister, Shivraj Singh Chowhan , MP Chief Minister, Vashundhara Raje Scindia , Rajasthan chief minister, in parliament. " As high level inquiries have been ordered into these case, Congress demanded the resignation of these leaders from their respective positions, as a precondition to allow the parliament function. Surprisingly instead of responding to the demand of Congress, Prime Minister Modi chose to abstain from the House and started charging Congress as responsible for the dysfunction of parliament," Rao said.
During UPA regime, Hanumantha Rao recalled, when Opposition BJP raised the corruption in 2G spectrum auction, Commonwealth games and coal scam, Prime Minister Manmohan Singh asked all the minister to step down.
" We demand the same response from BJP as well," he said.
" I, as a Congress MP, feel it is incumbent upon me to take the BJPs corruption in higher level in the administration to the people. I want to conduct dharnas in all district headquarters starting from Warangal followed by Karimanagar, Adilabad, Mahabubnagar, Nizambad, Khammam, Ranga Reddy, Medak etc." he said.