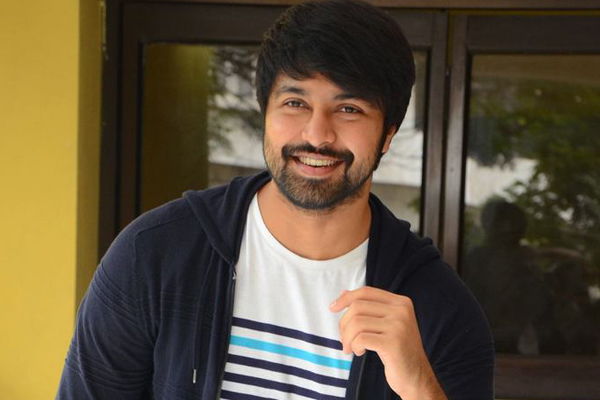 Vijetha Movie Kalyaan Dhev Interview
Nagaraj Goud
Kalyaan Dhev, the latest mega entrant, is a picture of calm and self-assurance as he is hours away from the release of his maiden film, 'Vijetha'. Married to megastar Chiranjeevi's younger daughter Sreeja, Kalyaan was inclined towards arts—sketching, acting and dancing—while in childhood itself. "The passion was always there and it only increased as I grew up," Kalyaan begins, speaking to us.
Post his engineering, Kalyaan got a Bollywood offer but it didn't work out. After marriage to Sreeja, he decided it's time, before enrolling himself at Satyanand Institute, Visakhapatnam for a three-month acting course. "With in a week of my return to Hyderabad, director Rakesh Sashii approached me with the story of 'Vijetha'. It was the first story that I was narrated and though I liked it, I was like, 'May be I should listen to more stories since I'm taking my baby steps in the industry'. But then the very next day, I shared the film's brief line to uncle Chiranjeevi garu. He liked it and asked the director to meet him with the script. He endorsed the script too soon after and asked me to go ahead," Kalyaan recalls and adds that the only suggestion that Chiru offered to both Rakesh and producer Sai Korrapati was that of considering Murali Sharma to play his father.
'Vijetha', says he, is the story of an average Joe (played by Kalyaan) who completes his engineering and wanders without any purpose in life. What does his father go through and how does the story take a turn is what the film all about, he adds. "It is a routine story but told in a fresh manner. Everybody can connect to it and post the film a son will remember his dad and dad, his son," he avers with an air of confidence, adding that for his part, Rakesh asked him to cut down on his muscle, which he did gladly.
He admits that while the first day on sets was effortless, it was the second day that got to his nerves. "I had five other actors with me on the second day and was handed over a two-page dialogue. There was a slight discomfort but my co-actors and Rakesh helped me to be at ease. I got adjusted inside a week," he states.
Moving forward, Kalyaan doesn't want to confine himself to one particular genre. "I, especially, like realistic cinema but I'm open to other genres too. I'm listening to stories and haven't signed my second film yet. In fact, I'm listening to the stories of aspiring directors who are approaching me through Instagram and Facebook too. Who knows a hidden gem can be discovered," he informs.
With other mega heroes doing well career-wise, what does he intend to do, to create his own identity? He says, "Honestly, I haven't given it a thought yet as 'Vijetha' happened so quickly."
Quiz him if Sreeja is having sleepless nights ahead of the film's release and he says she is relaxed too, adding that she isn't a movie buff. "If you ask her about the movies that her family members are doing, she probably won't have an answer. But then she has been extremely supportive of my decision and is happy too. She saw rushes along with uncle Chiranjeevi and praised me, saying that I did a good job," Kalyaan ends, flashing a smile.