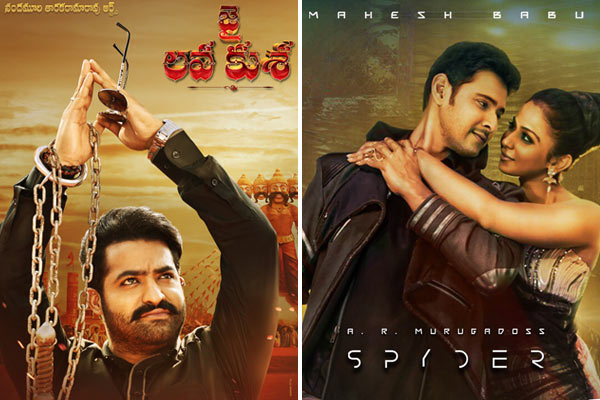 Tollywood's second biggest movie season after Sankranti is almost upon us. And a lot of money is riding on them. "Jai Lava Kusa", "Spyder" and "Mahanubhavudu". All the three trailers look so different from each other and promise a feast ahead full of action, comedy and plenty of "Non-Arjun Reddy"kind of romance (which families can watch together without cringing).
"Mahanubhavudu" starring Sharwanand is once again the proverbial dark horse. The last time Sharwanand entered the den of box-office sweepstakes, he walked away with honors with "Express Raja". The concept of Obsessive Cleanliness Disorder must be bursting at the seams with explosive laughter. But I wonder why Sharwanand doesn't always pick the most glamorous looking heroines to up his market cap.
"Jai Lava Kusa" looks to be a sure-shot winner with plenty of action, formula mix of triple-action stunts with three shades of characterization. People are touting this to be another DVSK for today's generation. I think NTR has already proved his versatility by sharing screen with his own other self in "Adhurs" which is still the best "Hello Brother" kind of film for the new millennium. Ram Charan is the only other new hero who tried dual roles with success. But NTR is different, he can pack a punch and bring out visceral magnetism from any role if he goes after that. But history proves that barring "Daana Veera Soora Karna", triple role films have always bombed at the box office. Examples, "Mugguru Monagallu" (Chiranjeevi) and "Michael Madana Kama Raju" (though it got accolades for Kamal Hassan). Proves that two is a crowd-puller but three is really a crowd on screen. If JLK becomes a hit, NTR's career which is already cruising with back-to-back hits will take off.
"Spyder" trailer has been a mixed bag for those who remember Mahesh films. His trailers never did justice to his films and most times, his films often belied the promise of the trailers. This Murgadoss film trailer looks more like a Shankar film full of VFX and Anti-hero particles blocking the hero. I also wonder why Superstar has reverted to using the suffix BABU. I don't know whether Mahesh Babu is numerologically good or just an affectionate way to address a handsome youth icon. Music by Harris Jayaraj looks like any of Murgadoss films but the most enigmatic draw of the trailer is the ferociousness of SJ Suryah. And the heroine Rakul Preet Singh. The makeover of heroines in Murgadoss films is always a cut above the rest of their filmographies. Mahesh Babu will face the litmus test of his life with this iconic clash with NTR Jr.
Historically, Superstar Krishna and Sr.NTR regularly clashed at the box-office on signature festival days. On one occasion, the late NT Rama Rao's "DVS Karna" directly clashed with Superstar Krishna's "Kurukshetram". NTR's triple role versus the combined might of Krishna, Sobhanbabu and Krishnam Raju. DVS Karna stole the box office thunder and the biggest joke was on "Kurukshetram" ("Everybody is worried that Shobhan Babu's Kireetam (crown) will fall any time"!).
But history need not repeat itself. Or will it? Let's wait and watch the fun.
Sridhar Sattiraju