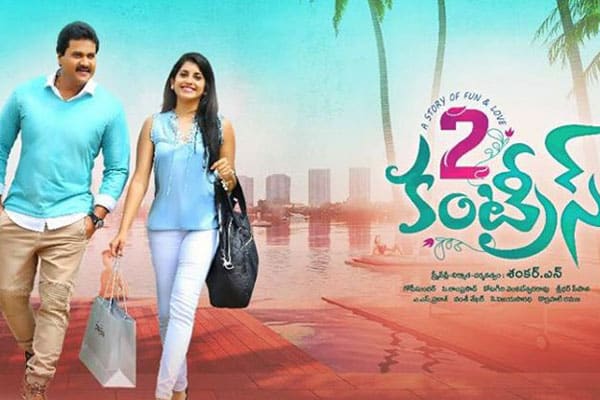 2 Countries Movie Review
2 Two Countries Movie Review Telugu
TELUGU360 RATING 2/5
Ullas (Sunil) has a deep desire to earn money without doing hard work. He thinks of marrying a rich girl is easiest way to earn money. His first choice was physically disabled sister of a patel (Sayaji Shinde) who belongs to same village Venkatapuram. But in last minute he changes decision once he gets a proposal from USA. The girl Laya (played by Manisha Raj) turns out to be his childhood sweetheart. After marriage Ullas realises that his wife is an alchoholic. Ullas and Laya enters USA after the marriage.
Rest of the story is how Sunil handles cultural shocks and on top how he reforms his alcohol addict wife
Performances:
Ullas role is a cakewalk for Sunil and he is in his elements. But the poor script could not help in elevating his characterization. Debutante heroine Manisha Raj looks good, acted adequately. Casting wise this is a big-ticket film, there are whole bunch of supporting actors Sayaji Shinde, Naresh, Srinivas Reddy, Prudhvi, Dev Gill, Krishnabhagavan, Chandramohan, Rajyalakshmi, Sithara, Raja Ravindra, Shiju, Sanjjana Galrani, Shivareddy, Jhansi got limited roles.
Technical:
C. Ramprasad's cinematopgrahy is highlight of the film. He captured USA and other locations well and brought a big budget film look to it. Director N shankar has failed in nativizing the content but lavishly spent as a producer. Gopi Sunder music is good in two songs, BGM is good as well
Sreedhar Seepana who is capable of delivering nice punch dialogues could not show his mark this time.
Positives:
High production values
Two good songs
Routine but decent end to the story
Negatives:
Comedy and dialogues couldn't generate any laughter
Poor script
Logicless scene
Analysis:
2 Countries is a Malayalam remake story and a cliched one. The basic line an NRI girl marrying a village boy from India is highly inconvincing. Though they tried to justify by adding alchoholic characterization to her role, still it is inconvincing. Had they utilized first half to insert some rural comedy, it would have been better. Instead those filler scenes are allocated to Sayaji Shinde's crazy punishments to his assistant, loud and fast dialogues between Sunil and srinivas reddy. Once ullas and laya gets into marriage talks, then onwards movie is slightly bearable. As Laya and Ullas get married, story moves to USA. The whole Laya (Manisha Raj) 's family issues are a mess. Father (Raja Ravindra) , step father ( Shijju) and well wisher uncle ( Naresh ) and their wives , together no episode is able to generate neight entertainment nor emotion.
As per the story half of the film had been shot in USA. When such high spending is required, it is minimum business sense to pick a hero who has market" at present". Two songs are just adequate on screen. " Varevva Dollar Baby ", " Ullasam lo " Songs may appeal for mass audienc
Verdict:
2 Countries is yet another disappointing Sunil starring film. A bad first half, slight better 2nd half is what this film offers. As story demands, half of the film was shot in USA. It is high time talented comedian , actor Sunil to reconsider his decision to act only as hero
Casting:
Sunil, Manisha Raj, Naresh, Srinivas Reddy, Prudhvi, Sayaji Shinde
Technicians
Banner: Maha Lakshmi Arts
Screenplay, Director and Producer: N Shankar
Music: Gopisunder
Cinematographer: C Ramprasad
Editor: Kotagiri Venkateswara Rao
Dailogues: Sreedher Seepana
Art director: AS Prakash
Co Director: K Vijaya saradhi
Production Executive: K Venkataramana
TELUGU360 RATING 2/5