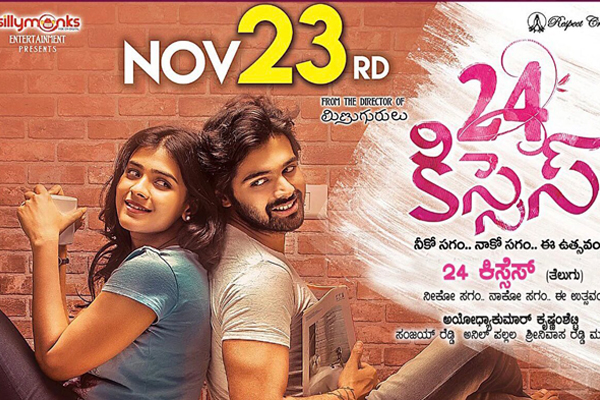 24 kisses movie review rating
Telugu360 Rating 1/5
Bold love stories are flavour of the season. After RX 100, one more hard-hitting romantic drama that is ready to entertain younger generation audience is 24 Kisses.
Starring Hebah Patel and Adith Arun, 24 Kisses released this Friday. Let's find out how is the film
Story:
Children film maker Anand (Adith Arun) is a peculiar person. He doesn't believe in marriage system nor in love. Anand meets Sri Lakshmi (HebahPatel), a mass communication student, starts physical relationship with her. After a while Sri Lakshmi realizes her boyfriend had multiple affairs in past, breaksup with him. Later Anand explains he doesn't want marriage or kids in his life. How Srilakshmi reacts to Anand's decision, how his movie making profession ends up? are the remaining film is about
Analysis:
'24 kisses 'is about a casanova named Anand. First half starts in routine manner with a boy girl lover story and modern age relationships. Anand doesn't want any emotional relation with the girls he sleeps around, Sri Lakshmi upset with it – because she is in deep love with him. The reasoning Anand tells why he doesn't want kids in his life is silly. At somepoint he says he is in love, in very next scene says he hates love so on… thought out the film the ideology of the protagonists flip flops with no reasonings.
Making things worse, majority of second half is filled with a documentary on children and importance of giving nutritional food to them. Having overdose of smooching scenes in first half and social message in same film make this film fail for both sections.
Performances: Adith Arun, Hebah Patel are ok as lead pair. From character artists, Naresh and Rao Ramesh played important roles. Rao Ramesh as psychiatrist, Naresh as heroine's father play other roles. Remaining all actors are unknown to little known ones with no importance
Positives:
Couple of songs have good lyrical value
Lead actors are decent
Negatives
Weakest story,Poor direction
Documentary film at times
Verdict:
'24 Kisses 'is easily the worst movie of the year. As title suggests it is all about smooching, the torture reaches next level in second half with a social message about malnourished poor children in India. This film is a crazy combination of a semi-porn theme& a documentary about poor children! You must avoid.
Telugu360 Rating 1/5
Release Date : 23rd Nov, 2018
Director : Ayodhya Kumar
Music Director : Joi Barua
Choreography : Uday Gurrala
Producers : Sanjay Reddy, Anil Pallala
Starring : Adith Arun, Hebah Patel