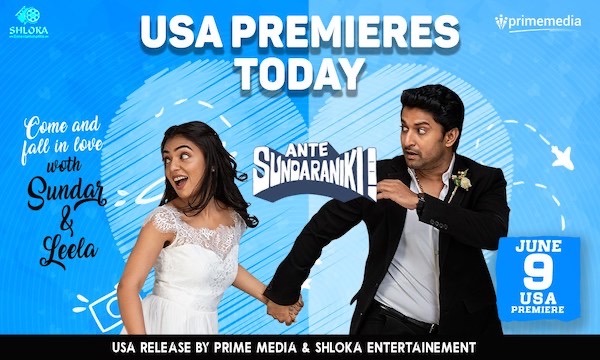 Ante Sundaraniki Movie Review
Story :
Sundar (Nani) is the only male heir of an extremely orthodox Hindu family. As such, extreme care, even if seemingly ridiculous, is taken in his upbringing. Leela (Nazriya), who comes from a Christian family, is always striving for her individuality and to make a name for herself. What happens when these two individuals from different religions fall in love? What are the chances they can get their families to agree to them getting married? What happens when your brilliant ideas start to materialize – the rest of the movies shows us as this comedy of errors unravels.
Analysis :
The first half starts at relatively slower pace with the Director Vivek Athreya taking plenty of time to establish Sundar and Leela characters, their family beliefs, traditions. With most of this already revealed in the movie trailers, the first half an hour feels a bit stretched. The movie is narrated in a non-linear fashion – with the narrative shown from different time periods of Sundar and Leela's life to better showcase the emotional mindset and probably explanation of the current situation. Bringing up the childhood school play multiple times, explaining the series of events to Anupama and/or Harshvardhan etc… make the narrative a bit confusing for the audience to follow.
Director Vivek took a seemingly straight forward story point of inter religion marriage, added comedy rooting from blindly following religious traditions, drama from trying to find a balance between family and love, to make this nearly three hour movie.
Nani steals the show with his portrayal of Sundar, vainly protesting his family making his life difficult in the name of religious traditions and at the same time following the same to appease them. The episodes between Sundar and Sundar's dad (Naresh) have come out good.
Production values by Mythri movie makers are adequate. Background score by Vivek Sagar is good but his tunes aren't great.
Pros : 
+ Entertainment and emotions blended well
+ Performances from the entire cast
+ Good Writing from Vivek Atreya
Cons:
– First half is stretched , film is tad lengthy
– Songs could have been better
Verdict : 'Ante Sundaraniki' is an entertaining urban film with an average first half and Good second half. Director Vivek Atreya is able to generate emotions.  Nani and Nazriya performed well . A film watchable with family.
Telugu360 Rating : 3/5 
Summary
Reviewer
Review Date
Reviewed Item
Author Rating