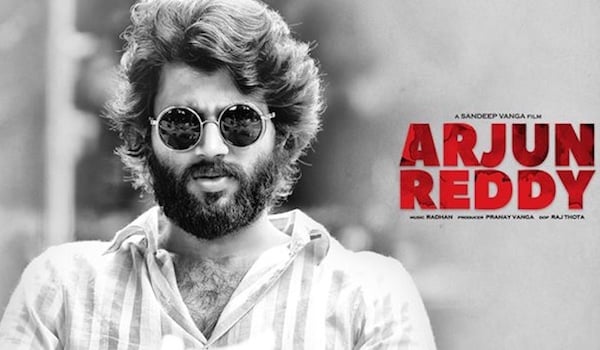 Arjun Reddy Review, Arjun Reddy Movie Review , Vijay Devarakonda
Telugu360 Rating : 3.75/5
The expected never happens; it is the unexpected always! The controversial trailers of the movie 'Arjun Reddy' are bound to give an impression that the flick is a way to sell expletives, vulgar hand gestures and other cheap stuff to youngsters to make some quick money. On the contrary, when the viewers step in, to watch the film, they are on a trip to visualize surprising and shocking elements. It is undeniable fact that this film has expletives and other bold stuff but everything for a reason.
The hero is not what was portrayed in the trailers, especially he is not the guy who uses cuss words like MC BC at the drop of the hat. Arjun Reddy is a free-spirited soul who is highly educated, highly principled and shows solid belief in his principles and in his philosophy. On one occasion, his friend's fiancée blabbers about bad-looks of an airhostess which Arjun Reddy rejects and takes a stand against objectifying woman. He goes to an extreme extent and makes sure that the marriage of his friend with a person who talks cheaply about women is cancelled. Arjun Reddy uses MC like swear words on those who scour colors on secluded parts of girl's body in the name of Holi celebrations. When Arjun's grandmother expires, he consoles his father by saying "Dad, I understand you are the person suffering the most on this earth for the loss of GrandMa, Kaani life lo idhi most expected part which no one expects. Isn't it funny? Life lo puttadam, Pelli, Chaavadam lantivi 10% are events, remaining 90% feelings are reactions to those 10% events"
In another situation, Arjun Reddy questions the society's usage of quotes and sayings as per their convenience. He rips his friend apart with a thought provoking question "'Manchi vallaki anthaa manchi jarugutundhi' ani vaaditho annavu, Mari naatho emo 'Manchi vallake anni kashtalu !' ani consoling enduku chesthunnavu?"
That is Arjun Reddy's characterization for you, which by far is the best in recent years in Tollywood or any in any industry for that matter. Now let us read into the story:
Arjun Reddy film has been narrated from hero's point of view. The lead protagonist is a doctor by profession who reminisces his graduation days. In the flashback, Arjun Reddy (Vijay Devarakonda) is shown as a medical student with an irascible attitude. He falls in love with Preeti Shetty (Shalini Pandey), his junior in college in Mangalore. The duo share a very close and an intimate relationship. Unfortunately, they couldn't take it to the next level as, the hero realizes that the word 'forever' is subject to caste compatibility. Preeti's parents are smug about their own caste and do not want to sink their caste differences. They are adamant that Preeti be married to a person belonging to their caste. That's when Arjun is totally broken and is a major the turning point of his life, which in the due course makes a drastic change. He becomes a drunkard and gets addicted to drugs, all while practicing the noble profession of doctor.
Will Arjun come out of the heartbroken and depressed state is what the rest of the story is about?
Analysis:
In an era where filmmakers crib to keep the film's duration for 2hours 20mins inclusive of 6 songs and fights, Arjun Reddy impresses the audience by keeping them hooked for 3 hours story without many songs and major fights
Arjun Reddy is one of the very few films which dives into the lives of medical college students. Though the storyline is very thin but Vijay's one man show and debutante director Sandeep Vanga's exceptionally skilled presentation keep the audience hooked to the chronicles, even though the runtime is three hours long. The director has penned a bold and haunting character for his hero which cuts across the younger audience very well. He has handled the love story in a very realistic manner with a hard-hitting narration that stands out as a major highlight for the film.
From the very first scene, the film is lifelike with fresh characterizations. The scenes featuring medical college are very well executed and will definitely strike a chord with youngsters. However, the director has gone a little overboard with the lip lock scenes.
The first half of the film is exceptional with top notch narration and striking dialogues. Vijay Devarakonda's aggressive behaviour, scenes in the medical college and post his breakup are the major highpoints. Director has handled the flick very smartly by not only keeping the entertainment factor intact but also crafting it into a hard-hitting love story.
The pace of the film slows down slightly in the second half in comparison with the first part. Even though the narration is slow, it manages to take the viewers on an emotional ride. The director compensates the slow narration by injecting some entertainment.
Few dubbing films, claiming to be 'realistic' and 'different', insert over dramatic pathos and show hero's extreme behavior. These flicks should learn from Arjun Reddy as to what a really different film is all about.
Technical Department:
Arjun Reddy is a laudable attempt by debutant director Sandeep Reddy Vanga who came up with such an invigorating and bold love story. He penned a stupendous character for his hero and handled the scenes in an aggressive way. However, he should have made it even more crispier. Radhaan's music is soothing with poetic lyrics occasionally.
The dialogues are the heart and soul of the film and will connect very well with younger folks. The editing could have been better, because the runtime of three hours is extremely lengthy and also an undoing aspect. Cinematography is fine and neat. The production values are adequate.
Highlights:
Realistic scenes are without any background score
Medical College scenes are authentic
Best scene is Holi episode where Arjun Reddy attacks Amit for mistreating Preeti. The wild dialogues in this scene are mind-blowing
Vijay's performance in a lengthy sequence (quarrel with Preeti's family) is outstanding
Arjun's conversation with his dad, when his grandmother dies
In-house court trial scene where Arjun confesses his mistakes
The lead couple affirm that in their live-in relationship of 3-4 years, they have made out about 549 times
Dialogues throughout the film
Negatives:
Too many lip lock scenes (in total 16). They were unnecessarily inserted and also inconvenient to the flow of the story
It is a big no for kids Very strictly for its shocking content
Slightly slow paced second half could have been bit crisper in narration
Climax is a let-down with overly cinematic ending
Verdict:
'Arjun Reddy' breaks all contemporary film making rules in every possible way. It is intense, realistic, free-spirited, arrogant, philosophical and hard-hitting occasionally. It's a three-hour rollercoaster ride of emotions with laugh, cheer, shock and thought-provoking scenes. We strictly warn you not to take the kids, for couples and youth this is outrageously path breaking film thoroughly enjoyable on silver screen.
Telugu360 Rating : 3.75/5
Release Date : 25th Aug, 2017
Director : Sandeep Reddy Vanga
Music Director : Radhan
Production company : Bhadrakali Pictures
Cinematography : Raju Thota
Starring : Vijay Deverakonda, Shalini Pandey