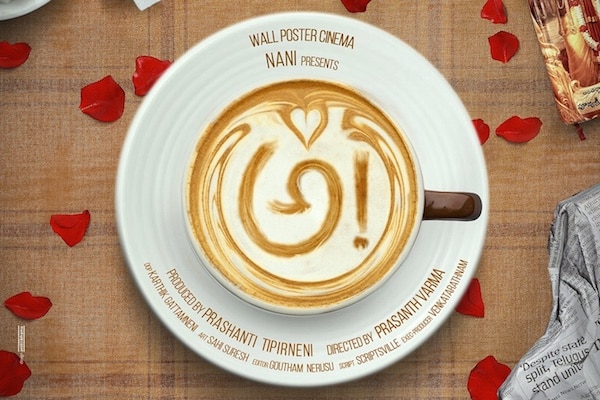 Awe Movie Review
Awe Review , Rating
Telugu360 Rating 3.25/5
Spoiler free Story & Theme :
A chef, a couple who're about to get married , a magician , a drug junkie , a wanna be time traveller and a woman are the key characters of this film. The screenplay initially appears similar to award winning film "Chandamama Kadhalu" and few other similar concept films. The said screenplay of "Chandama Kadhalu " is , as everyone knows , story is amalgamation of multiple individuals' short stories narrated independently at the beginning , they meet at some point of their life travel and move forward for a common cause. But AWE is NOT that kind of screenplay on its entirety and is much more than that. The similarities end very soon in first half and are limited to only introduction of first four key characters. Once each character of #AWE is established, audience will feel that this film's teasers are not just bait, but the it is indeed a different one.
AWE is a film that will split the audiences – the twists of its plot will either impress you or drive you crazy! Many out of the box films fail in convincing audience about their core concept, but that is where exactly AWE scores big. After building up enough curiosity with initial scenes, once the director discloses the "surprise factor", many movies fizzle out but AWE arrests audience after revealing what it is about. The smartness of the script developers ( Scriptville ) can be seen in inserting Fish and Bonsai Tree characters into this otherwise serious story. Nani and Raviteja nailed it as Fish and Tree with their dubbing. The importance of Plants told by Raviteja in comical way sends the whole theatre into laughter.
A sexual disorder was sympathetically discussed. Another concept abusing girls by some of the near and dear was boldly discussed and it is kind of extension to #MeToo movement. However , slow narration is the major drawback of this film.
Writerand director Prasanth Varma brought in fresh energy to Telugu films. How on this earth was he able to conceive this idea for Telugu industry? Though he took cue from some Hollywood scripts, his work in customizing the script for Telugu audience is commendable. Mark A. Robin background score is superb and so is Karthi's photography. Nani as a producer spent adequately wherever required. With the offbeat artwork, cool visuals this film got required hatke look.
All actors have performed well !
Highlights :
Everything about the movie is unconventional
Nani and Raviteja voiceovers for Fish & Bonsai Tree are similar to Hollywood animation movies
Social message about girl child Abuse
Social message on importance of Plants
Superb cinematography , background score and artwork
The medical reasoning on LGBT community
All artists' performances
Negatives :
People who do not understand the concept in climax, will not get the movie at all
Magician thread is boring at times
Avasarala Srinivas thread should have been more understandable for common audience ( Of course it is difficult to detail the Time Travel in little time they have )
Concept will attract very limited set of audiences commercially
Verdict :
Awe is a truly different kind of film by many parameters with smart screenplay , unconventional concept , underlined social message and a shock value ! Not sticking to a specific genre , this film in itself is a genre – Out of the Box ! It may not be liked by all sections of audiences – but for those who want a change, who want a different film .. Go and get AWEstruck !
Telugu360 Rating 3.25/5
Cast & Crew :
Director : Prasanth Varma
Producer : Nani, Prasthanti Tipirneni
Music by :Mark K Robin
Cinematography : Karthik Ghattamaneni
Edited by : Goutham Nerusu
Production : Wall Poster Cinema
USA Release date : February 15th 2018
Language : Telugu
Starring : Kajal Aggarwal , Regina Cassandra , Nitya Menen, eesha rebba , murali sharma, avasarala srinivas , Priyadarsi