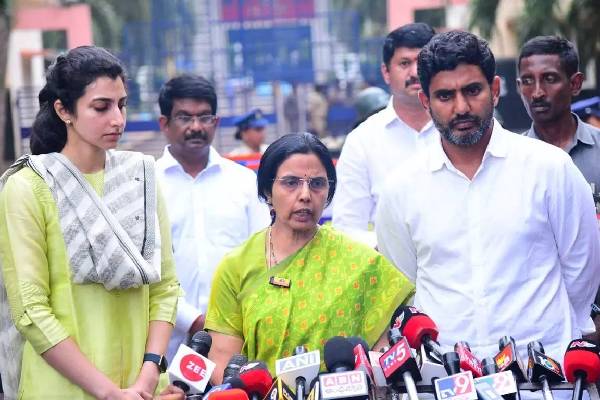 Nara Bhuvaneswari, the wife of TDP chief N Chandrababu Naidu, on Tuesday expressed fear over the safety of her husband. She said that the family's concern now was the safety of Chandrababu Naidu.
Bhuvaneswari, along with son Lokesh and daughter-in-law Brahmani visited Chandrababu Naidu in Rajamahendravaram central jail on the day. They were closeted for 30 minutes in the jail. Only the three were permitted inside the jail to meet Naidu.
Later, speaking to media persons, Bhuavaneswari said that Naidu was safe and healthy. She said that Naidu was speaking about development of the state and welfare of the people. She wanted the people to stand by the family in the hours of crisis. He also called upon the people to support Naidu in this hour of crisis and extend their support.
She said that Naidu wanted to come out of the jail and serve the people. He is saying that he would come out clean and soon to serve the people. He is only worried about the state and its people, she said.
Bhuvaneswari said that the new block in the jail was built during Naidu's regime. She said that he was kept in the new block that was built by him. She said that Naidu had worked hard for 40 years to keep Andhra Pradesh on top of the country. She further said that Naidu was never worried about the family, but always had state and the people in his mind.
She said that Naidu was thinking about the people and the state and was not worried about the facilities provided to him in the jail. The facilities for him were very poor in the jail, she said and made an appeal to the people to ensure that Naidu is protected and saved for the benefit of the state.