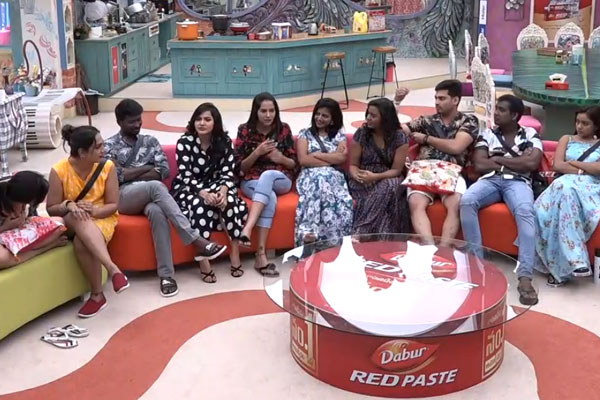 Bigg Boss season 3 Telugu is engaging audience a lot and this week's captaincy task turned violent and there were injuries for the housemates.
Captaincy task:
As per this task. all the housemates will play different roles For e.g. there are 3 thieves i.e. Sreemukhi, Ravikrishna and Ashu Reddy and  Baba Bhaskar will be the lazy police inspector and all the remaining housemates will be villagers. There will be money and gold in the village and it needs to be saved from the thieves. During the task, Sreemukhi, used dumbbell to break the glass of the chest. After this, another thief Ravi Krishna, on advice of Srimukhi, also tried to break the glass with hand and he got injured. After this injury, there was all chaos in the house. Rahul and co (Varun, Vitika and Punarnavi) blamed Sreemukhi for taking foolish decision. Rahul even called her "Faltoo" that upset her but she didn't cry in front of the housemates. Later Ravi Krishna and Sreemukhi went to medical room to treat the injury and Sreemukhi there burst into tears. The discussion followed after this injury exposed the stand of the housemates on the incident. Rahul tried to provoke Baba Bhaskar by saying he cannot keep quiet when this kind of incidents happen. It is known news that, Baba Bhaskar never landed himself into any troubles so far.
Secret task:
Later Bigg boss gave secret task to Ali Reza and Punarnavi separately. They have to go to a secret room and ensure none of the housemates sees them and knows about the task. After everyone slept, Ali Reza left to the secret location in the mid night and completed his secret task successfully. Punarnavi also successfully entered that secret location in the morning around 7:30 am before wake up call. Later, housemates found Ali Reza and Punarnavi missing in the house but they were not worried much as they know both of them visited confession room today. Bigg boss asked the housemates whether they want Ali Reza and Punarnavi back into house. Himaja replied she didn't miss them. Tamanna told she wants Punarnavi back but she doesn't care about Ali Reza. Rest of the housemates told they want both back. However, Bigg boss put a condition that if the housemates really want both of them back, they need to sacrifice milk, eggs and curd.
Housemates reaction on this is awaited