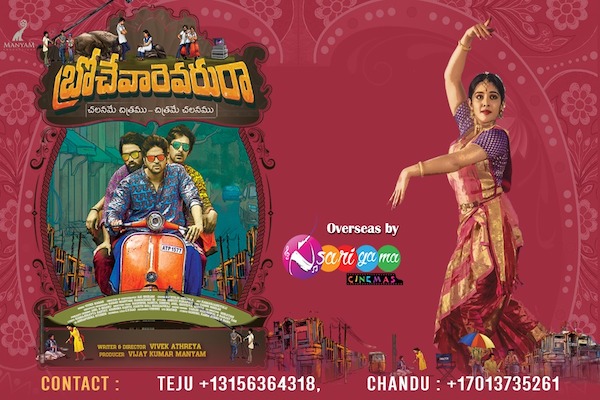 Brochevarevarura Review
Telugu360 Rating 3/5
Story :
Brochevarevarura has two storylines which are shown in parallel interlocking fashion. First story line is between an aspiring director and a cinema heroine. Second storyline follows three joyful youngsters who are friends. A wannabe director Vishal ( satya dev) tries to rope in heroine Shalini ( Nivetha pethuraj) for his debut film. He narrates script to her, she starts liking the script as well as vishal. In the second story , Rahul ( Sree Vishnu), Rocky ( Priyadarsi ) and Rambo ( Rahul Ramakrishna ) become friends with Mitra( Nivetha Thomas ) – their college mate. These two stories take an unintentional crime turn and interlocked towards the middle of the film .
Rest of the film shows how the three Friends bail out Mitra from her troubled family life
Analysis
Director Vivek Athreya who debuted with a sensible film 'Mental Madhilo' , surprises with his second film 'Brochevarevarura' which is a contrasting one to the first. This film is an out and out comedy themed one with interlaced crime element. Core story is based on four intermediate college students Rahul, Rocky, Rambo and Mitra. A sense of Déjà vu for the college scenes is inevitable, however movie fails to maintain the grip in second half. Liberal usage of expletives between the friends in second half will be liked by youth but may find difficult for family audience to receive. In general,crime thrillers are meant for a bit puzzle for brain, but in this film it is more lighter vein and oversimplified.There are no special duets , but bit songs come as backdrop ones.
The director – heroine thread is passive and no reasoning has been established why the heroine likes the director. The climax is weak part of the film. Production values could have been better. Director Vivek Athreya has done a decent work with screenplay, but direction in second half could have been better performances. Sree Vishnu , Priyadarsi and Rahul Ramakrishna as usual excelled with their comedy timing. Heroines Nivetha Thomas, Nivetha Pethuraj are performed adequately.
Positives:
Dialogues between the three friends are hilarious
Simple crime storyline
First half twist at interval block
Uncensored version in USA with liberal dose of expletives (used in funny manner)
Negatives:
Story appears too cinematic at times
Patchy second half, Weak climax
Not aimed for family audience
Verdict:
'Brochevarevarura' is a simple story filled with good amount of fun and light dose of crime theme. SreeVishnu ,Priyadarsi and Rahul Ramakrishna trio thread is energetic , their dialogues are quite natural. On flip side , second half is too flat at times with a weak climax. Overall , a decent entertainer which may appeal to youth.
Telugu360 Rating 3/5