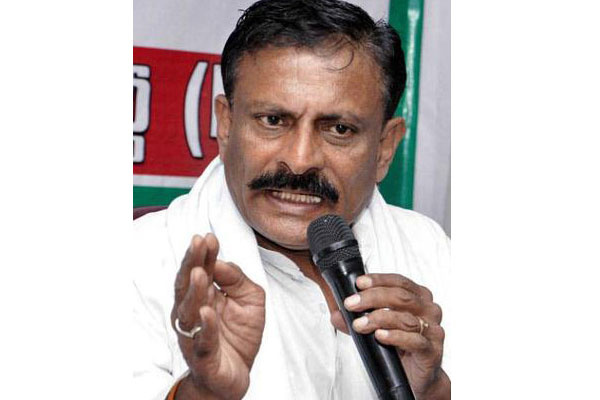 Former MLA and Rayalaseema movement leader Byreddy Rajasekhar Reddy has been placed under house-arrest since morning in Kallur of Kurnool town. Reddy was to launch a padayatra from Pudicherla to Kurnool collectorate and present a memorandum on the problems the farmers facing in Rayalaseema, especially in Kurnool district because of government's land acquisition plans.
The village Pudicherla has been chosen as starting point of protest because it is the place where chief minister Naidu laid foundation stone for the industrialization of the area in August.
Byreddy gave a call to the farmers from Jupadu Bangalow and Orvakal mandals to participate in his "Rytu Batuku Deruvu Padayatra". However, the the pre-dawn swoop the politice took all local leaders into custody in two mandals. Later, the police reached Reddy's residence in Kalluru and placed him under house arrest. The police said the Padayatra had no permission. Reddy has been opposed to acquiring fertile agricultural lands in the name industrialization.Protesting the refusal to Padayatra and his confinement to the House, Reddy began his diksha from his house.
His argument is that no industry could accommodate lakhs of farmers who were made landless because of land acquisition."You rob the farmers of their lands and the industries could not accommodate them. What would be the result? A disaster! If allowed, it will trigger spate of suicides," he said this correspondent. TDP government has given government Tangedancha farm lands to Jain Irrigation in the name of setting up a food park, last month. The decision has met with stiff opposition from the local people and leaders.
Reddy, president of Rayalaseema Parirakshana Samiti, has been opposing the taking over of government and farmer's lands by the government. He says the government is planning to the assign these lands to corporate companies such as Reliance. " They are giving fertile lands to corporate companies in thousands. They want to evacuate entire people from the villages. Where do these farmers go after their lands are acquired?" Reddy said.
Stating that his yatra was a peaceful march to collectorate to meet the collector in the today's Praja Darbar only to give a memorandum, he accused, the farmers had been arrested as if they were going to wage a war with government.
" The argument that these factories would give jobs is a blatant lie. All these corporate companies bring their own people from North India. They never encourage local for fear of retribution," he said.
He condemned the farmers arrest and his house arrest and said it would have serious consequences.
Byreddy laid four damands before the government:
1. No fertile and farm lands should be acquired.
2. No village should be evacuated to make room for Industries.
3. Industries should be set up only in government and barren lands
4. 50 per cent of jobs in these industries should be reserved for locals with statute backing.