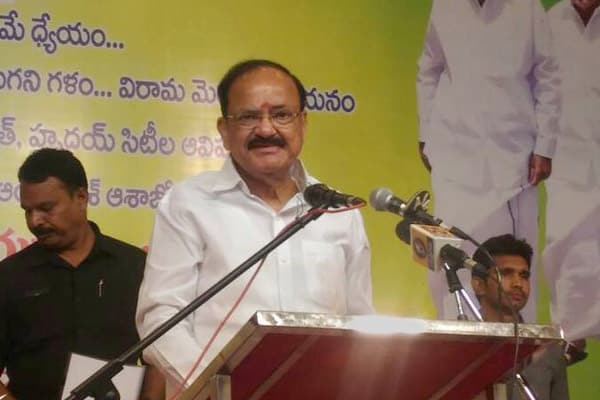 The notification of NDA government called Prevention of Cruelty to Animals (Regulation of Livestock Market) Rules which bans the sale of cattle for slaughter at animal markets is facing severe backlash. This will severely hit the farmers of drought-hit Rayalaseema region where selling aged cattle is a routine; especially where scarcity of fodder is a problem in itself. Several activists who support the ban are asking farmers to buy cattle-feed by selling the urine and dung to those who make fertilisers. But this is no answer to the question of increasing supply of fodder in a region which is hit by drought for 8years in a row. Farmers sell the aged cattle to buy the new ones and hardly care about who they are selling as long as they are paid well.
Speaking at an inaugural function in Ongole, Union Minister Venkaiah Naidu said that the government is not against buying and selling of cattle. He said that the Centre is not interfering with the food habits of people. He further said that the BJP led government at the Centre is against killing of livestock which are useful for farming.
The prevention of the sale of cows and buffaloes for slaughter by the saffron party is indirectly perceived as beef ban. The animals which include bulls, cows, buffaloes, steers, heifers and camels can be sold in the market only after they legally mention that the cattle have not been "brought to the market for sale for slaughter".
It been around three years and the government owes disbursal of crop loss compensation to farmers of Rayalaseema region. As the government continues to neglect the region, the dry land is on the verge of going barren. The Andhra Pradesh state reorganisation bill has mentioned a package to Rayalaseema and North Andhra regions as per the Bundelkhand model. While, the story of depriving Andhra Pradesh of the promises in reorganisation act by the central government has become a norm, this ban will only increase the farmers' distresses in the region.
Telugu360 is always open for the best and bright journalists. If you are interested in full-time or freelance, email us at
Krishna@telugu360.com