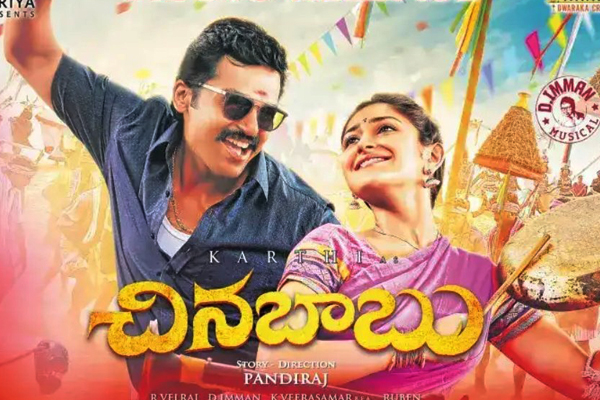 Chinna Babu Review , Kadaikutty Singam Review
Telugu360 Rating 2.25/5
ChinnaBabu is touted to be a realistic family drama which also highlights the distress faced by farmers.Tamil dubbed films are finding good patronage from Telugu audience these days. Can ChinnaBabu emerge as another decent hit in that category? Let's find out
Story:
Chinnababu film begins with an introduction to RudraRaju's humongous family and the relations within. Rudraraju (Satyaraj) wants a son but becomes the father of five daughters from his two wives. While looking for a third wife, his first wife becomes pregnant and delivers a boy Krishnamraju(Karthi). Karthi grows up, two nieces want to marry him but he falls in love with an outsider Neerada(Sayesha).Knowing that heir apparent Karthi is liking outside girl, disputes ignite within the big family. Father satyaraj gives an ultimatum that his son can marry only with consent from all his 5 elder sisters. Rest of the film is how Karthi tries to convince the rest of the family to give nod for his marriage.
Analysis:
Chinnababu starts off on lighter vein and interesting note. Karthi's character Krishnamraju as a farmer offers something difference than current days' run of the mill characterizations. Dialogues addressing the negligence of farming profession are impressive. There are few social message snippets in initial stage of the film which slows transforms into out and out family oriented film. As Karthi loves an outsider Neerada( Sayesha ) , the trouble brews within the family. Surendra Raju is the villain character, entire villainy is so clichéd. The film becomes increasingly farcical post interval. There's a lot of heavy sentiment that bears television serial. The sentiment after a point gets repetitive and boring.A couple of songs by D.Imman are good but the background score is old school.
Adequate care has been taken care in dubbing this film into Telugu, but the huge number of character artists unfamiliar to Telugu audience is a negative aspect.Satyaraj ,Karthi , Sayesha and all lead actors performed well in this emotional film. Director Pandiraj is succeeded in delivering a decent film, but this caters very strictly for targeted women audience!
Verdict:
Chinnababu first half is decent, second half is stuffed with heavy dose of sentiment scenes. Overall, it isan average fare for targeted family audience and others may find it difficult to absorb the sentiment. This rural family entertainer has some positive elements, only caters to limited section of audience
Telugu360 Rating 2.25/5
Release Date : 13th July, 2018
Director : Pandiraj
Music Director : D. Imman
Producer : Suriya
Starring : Karthi, Sayesha Saigal