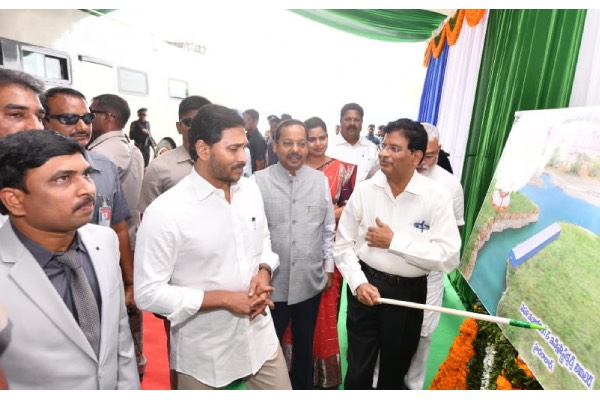 Chief Minister Y S Jagan Mohan Reddy launched the works of Rs. 340.26 crore Varikapudisela Lift Irrigation Scheme that would make Palnadu area green.
Addressing a public meeting after unveiling the plaque at Macherla on Wednesday, Jagan Mohan Reddy said that the first phase of the scheme will provide drinking water to 20,000 people and irrigate 24, 900 acres in upland areas of Veldurthi, Uppalapadu, Gottipalla, Sirigiripadu, Bodilaveedu, Gangalakunta and Kandlakunta villages.
When the second phase is completed, the project would provide drinking water to more than 1 lakh people and irrigate more than 1.25 lakh acres, he said.
Though Nagarjuna Sagar Project is close to this place, Macherla area was neglected for decades. Former Chief Minister Chandrababu Naidu laid foundation stone for the lift irrigation project ahead of 2019 elections for political gains without obtaining clearances and acquiring land.
"In the last four years, we acquired land for the project and obtained clearances from National Board of Wildlife on May 19, 2023 and from the Union Forest and Environment Ministry on Nov 6, 2023," he said, adding that the project will change for façade of Macherla area in the days to come.
He said 1.57 TMC of water would be ferried for irrigation and drinking purposes from the project at the rate of 281 cusecs of water daily.
The Chief Minister reiterated his commitment for the development of the Palnadu area in all respects and said that the Palanadu district was carved out aiming at decentralized development.
Government has spent Rs.8812.48 crore and Rs. 3087crore through DBT and non-DBT schemes in Palnadu district and the area is witnessing rapid progress with several works in the Education and Medical and Health Department being expedited under Nadu-Nedu.
In response to the appeals to the local MLA P. Ramakrishna Reddy, the Chief Minister agreed to upgrade the present 50-bed hospital here to 100-bed hospital and sanction funds for several development works.