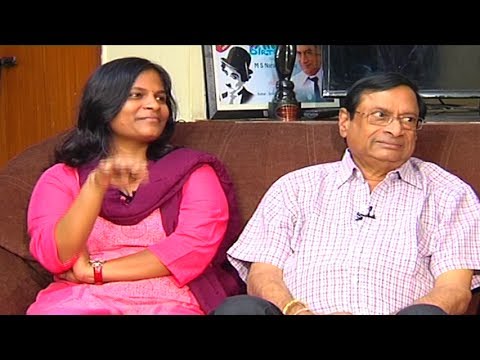 It hasn't been easy for Sasikaran Narayana, daughter of popular actor M S Narayana to get in terms with his sudden death. Also the director of the film Saheba Subramanyam, she takes a nostalgic turn to her childhood, the memories of gold that she and her father had shared. From the situation in the house, to his struggling days, his equation with veteran actor Krishna, Mahesh Babu and Pawan Kalyan, her travels, Sasi still feels those days are afresh in her mind. Here's what she wants to open up about those good old days.
Dad is always a hero to any girl till she finds her man. But my dad remains a hero of my life forever, not because he is M.S.Narayana, the popular comedian. It's because of his arrogant innocence and unconditional love towards his family and his extremely focused intelligence. His ignorance towards financial status and hypocrisy, his straightforward and non-diplomatic nature, his sense of humour, his extreme love and anger when he was drunk and frustrated. My house was a hub for arts and theatre students used to stay there and used to practice scripts. In nights, dad sitting with friends, daru, shaayari and mom's food was a regular combo of life when he was in town. Mom is the biggest emotional and financial anchor of my dad. He struggled a lot to set his mark as a writer but miraculously ended up being an artist.
He mostly lived in Chennai, away from family and job (loss of pay) and missed watching us growing. Only one thing runs in his mind; all the time cinema cinema and cinema. Through his passion and talent, he got few friends from industry who actually believed in his abilities. He got few opportunities as a writer and his narration impressed Raviraja Pinisetti who made him an actor. In his busy schedule and struggling days, he never neglected us. He never ever missed to celebrate my birthday. New clothes, cake and party to friends; he always taught me to believe in good and see the noble side of people. This injected positivity in me and started believing that whatever happens is for good and we should work hard towards our goal without thinking about results. If we give our best, result will be definitely postive. Do it crazily from the heart was his motto.
He loved education and if I got less marks in any exam, that day used to be my nightmare. I grew up watching him writing scripts, directing students and winning many prizes in universities for his plays. And students used to treat him as a hero. He was rebellious sometimes as he used stay in Chennai. If he got to know that someone messed with us, he unnecessarily used to blast them, an example being our neighbors behaving weird with us. My dad taught a lesson that they will never behave with any woman or kids in such a way. They vacated the house next morning itself.
I had a unique connection with Chennai and I wanted to study there but the industry shifted to Hyderabad, so did we. I still love Chennai and it's a unique city with a blend of culture, arts and modernization. Dad lived in T Nagar near Bhog Road, Nilakantha Mehtha street. Out house of Relangi has two playmouth cars parked in his compound where we used to play. Krishna garu's house was opposite to ours where Mahesh Babu used to play french cricket in our compound.
One day, a jeep came to our place, I and dad got into it. I was there for holidays the first time to stay with dad. To my surprise, Nagababu garu was driving it and Pawan Kalyan garu who was sitting beside dad was a good friend of both. He was on training and yet to be introduced into movies. Pawan garu was very simple and Naga Babu garu wore kurtha paijama and used to be healthy looking. I was awestruck to see their bonding with my dad. Dad was involved in Mugguru Monagallu script that time. Dad and me used to listen and sing communist songs sung by Gaddar and various artists. One of my dad's friend expressed doubted I would be taking the path of naxals.
Days passed and dad became a star but nothing changed, even the simplicity. The love he shared remained unconditional and passed on to next generation including my kids and brother. Kids were fortunate to embrace themselves with his love. Sometimes they get annoyed that why are not like any other actors, but they understood dad's intention of being simple soon. He taught us to cope up with any kind of situation but he forgot to teach me how to overcome the pain of his loss. I never thought of this.
Am fortunately unfortunate with my marriage, so I got an opportunity to share space in my dad's house till his last breath. It's been a blessing to have lived with my kids along with mom and dad.