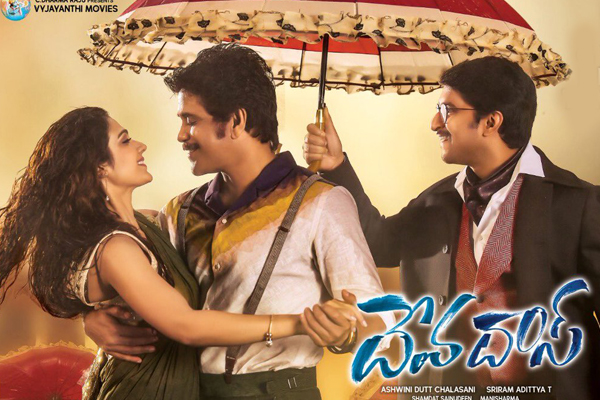 Devadas Review, Devadas 2018 Review Rating
Telugu360 Rating 2.75/5
Akkineni Nagarjuna joined hands with Natural star Nani for a full length comedy caper titled as Devadas. Directed by talented director Sriram Aditya, the film has Rashmika Mandanna and Akanksha Singh as the female leads.
Devadas has Nag playing a don and Nani a doctor. After good round of promotions, Devadas released today all over. Let's find out its verdict.
Story: Deva (Nagarjuna) and his Godfather Dada (Sharath Kumar) are high profile underworld kingpins. Deva is a don whose face has never been seen by public, he operates behind the screens. Such Deva is forced to come out to take revenge on the killers of his godfather.
Dr. Das (Nani) is a top ranker in MBBS, but struggles to get a career break as a doctor. He is fun loving guy, Good Samaritan who rescues Deva from critical bullet injury. After a series of events, friendship strengthens between Deva, Das and latter tries in vain to get Deva out of criminal world. Whether Das is succeeded in bringing change in Deva? And how police and underworld gangs chase Deva etc. form rest of the story.
Performances:
Nagarjuna got his recent career best role as Deva. He looked 10 years younger, appears very fit in this film. His introduction scene, reminiscence of Manmadhudu, Ninne Pelladuta image are feast for his fans. Natural Star Nani's role is entertainment oriented, at his best as Dr. Das. He once again proves his mettle in comedy timing. Heroines have lesser significance, limited screen time in this film.
Rashmika Mandanna who acquired good following in Telugu, with her recent blockbuster hit, has been wasted in an undercover cop role in this film. Another heroine Akanksha Singh who played as Nag's heroine is average.
Senior actor Naresh, actress Satya Krishnan play Nani's brother and sister-in-law. Murali Sharma played a cop role, Tamil actor Sharath Kumar played the godfather role. Kunal Kapoor as villain is a miscasting. He doesn't have that menacing look. Vennela Kishore role is limited,Comedian Satya as an assistant to Dr. Das is entertaining.
Analysis:
The premise of the film is friendship between two contrasting characters, a mafia don and a doctor. First 15 minutes of the film is so boring, director takes more than required time to establish Deva and his Godfather characters. Once the narration reaches the main plot, i.e. after Dr. Das and Deva enter, picks up the pace and adequate entertainment has been provided until interval. Mainly Nagarjuna's image has been fully utilized by the director. Nani's character is designed with entertainment in mind, he obviously made justice to the Dr. Das role. However, after hyping the Deva role as a high profile don, the police department and opposite mafia gang's efforts to nab him are not convincing. Nani's and Nag's scenes alternatively switch initially, has not neatly done . Only after they meet each other then only the narration is neat.
Second half starts with entertainment scenes as well, towards the middle it turns emotional as Deva, Das part ways. Organ donation camps etc. sub plots take center stage at the middle of second half. However, pre climax and climax are better,lighter vein. Movie ends on a comedy note. All in all, second half has nothing much in offer except few laughs..it is boring at times Production values by Vyjayanthi movies are good. Casting is notable as reputed artists have been roped in for even smallest roles. Songs, art work are rich. Technical department done a decent work. Manisharma provided good tunes for 2 songs , Good background score
Positives:
Nagarjuna, Nani friendship and their best performances
Entertaining scenes in first half, partly in second half
Two good song tunes, visuals
Emotional scenes work with families
Negatives:
Weak plot of the story
Police department, Villainy are shown dumb
Female lead characters are not properly designed
Second half pace drops at middle, boring at times
Verdict:
DevaDas is an average film with adequate entertainment at times. Friendship scenes between Deva and Dr. Das came out well, so is entertainment in first half. Director played to Nagarjuna & Nani's strengths. On flip-side, story is weak, plot has nothing much to write about and 2nd half is boring at times. Overall, if you don't crave much for strong story point, give this movie a try.
Telugu360 Rating 2.75/5
Release Date : 27th Sep, 2018
Director : Sriram Aditya
Music Director : Mani Sharma
Choreography : Prem Rakshith
Production House : Vyjayanthi Movies
Starring : Nagarjuna, Nani, Rashmika and Akanksha Singh