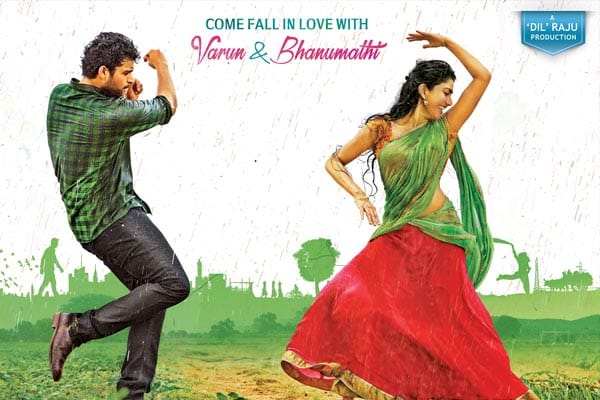 Shekhar Kammula has always been a different and responsible film-maker committed to showcasing Telugu nativities as well as presenting human values in ways that everybody understands. His films were evocative, neat and arty but were non-conformist by Tollywood conventions. And then he became impervious to the usual wave of adulation and apathy that greets many a director who alternates between feast and fast in Tollywood. Until "Fidaa" happened. The movie is an outright winner and one of the best-made love stories that will linger on for a long long time after you step out. This film should have been ideally Dil Raju's silver jubilee film instead of DJ. But for Shekhar Kammula, this is a proud comeback film that will resurrect his career after "Anamika". Two things will happen after "Fidaa", all those top stars and producers who heard Shekhar's stories before saying NO will pay heed when he narrates his script next time.
What is special about "Fidaa"? The story is not unique. It is a simple love story of an NRI doctor (Varun Tej) from USA who meets a BSc (Agri) girl (Sai Pallavi) from Bansuwada (Telangana) with a known twist as in "Hum Aapke Hai Kaun" (siblings of an arranged marriage couple). But in 145 minutes, Shekhar Kammula weaves a cheery romance that fills the air around you and surcharges the screen with the roller-coaster ride of love emotions the lead characters go through . As the tag-line in the title says, " A love hate love story". With a not-so-hurried interval bang and a sure-footed feel-good ending, Shekhar Kammula shows he is still in command of the craft – in giving meaningful dialogues, script and an honest way of story-telling with the subtextual messages about society and living never missing their mark no matter which character in the film gives out. The message could come from a well-known comedian like Satyam Rajesh (hero's friend) or Raja Chembolu (hero's brother) or Saichand (heroine's father) or the boy brother of the hero (who asks not-so-innocently "Are they making out?") or a farmer who is about to lose his agricultural land to a real estate shark. It is these subtle points in measured doses that make Shekhar stand out as a responsible director who doesn't cut corners in silly mockery, item songs or pointless stunts. That class and subtlety comes out convincingly in the plot despite some obvious misses – like how the romance is hidden from plainsight from other family members until the hero reveals it to his sister-in-law.
Right from the start, Shekhar maintains the grip on telling a realistic story between a rustic girl and an urbane boy in conceivable situations. Shekhar makes it a riveting watch by capturing the ibby-jibbies of two lovers who were meant to unite some day but only after going through the mandatory overs of love-hate-love. Misunderstanding is the currency that keeps the love in circulation and that is what the director milks with magical effect – the motions you go through those moments of intensity not only get your targeted rate of heart-beat high but also bump you down at times until the mind yearns for realization of what has to necessarily play out. Very few directors like K Viswanath (Swarna Kamalam), Karunakaran (Tholi Prema), Mani Ratnam (Gitanjali) and Gautam Menon (Ye Maaya Chesaave) maintained the balance between telling a good love story without too much noise. In that sense, Shekhar deserves applause for striking a chord there with consummate ease.
To a large extent, the collaboration with a commercially-successful producer like Dil Raju has given "Fidaa" a makeover that few can afford. You can see the production values of this film with the half a dozen films that Shekhar directed before and the uplift in standards shows. Cinematography by Vijay Kumar is captivating as it shows the sylvan landscape of the most fertile Telangana areas in splendor while capturing the essential love story down to its pivoting moments of eye-ball movement between Varun Tej and Sai Pallavi. Marthand K Venkatesh has been editing Shekhar's films for a long time but this film will make his work stand out – except for one lazy scene in pre-interval in San Francisco, Marthand has retained the mind of the director in what he wants to tell and omit in the pulsating romance that gives you enough thrills. Music by Shaktikanth Karthik is a welcome addition to "Fidaa" and definitely enhances the beauty of the film by giving us some memorable tracks. Shaktikanth's music seems to have a good rhythm, instrumentation and range that can catapult him to a position of pre-eminence. The first song doesn't come until 55 minutes of runtime but after "Vacchinde" song comes, there is no getting away from the charms of the music director. Good to see the director acknowledge the legend Saluri Rajeshwar Rao for the song "He Pillagaada" (easily the best soundtrack of the film) where he uses the timeless melodious instrumentation of the classic "Malleeswari" to embellish the song. The title credits also show another composer Jeevesh Babu who scores the background music; he does a good job of syncing the OST with the threads of the soulfulness in the music of Shaktikanth. It must be a bold choice for the makers especially Dil Raju to side-step the likes of Mani Sharma and Mickey J Meyer to score BGM for the film.
Performance-wise, Sai Pallavi is a bewitching half-beauty who carries the film on her shoulders. She has been a bold choice considering that she holds no airs of a starlet nor has oomph or a face that can stir a thousand hearts, yet she exudes an expression of uninhibitive charm and pastoral attitude that is enchanting to watch. Her performance should shame many pretty lasses in Tollywood who know nothing about nuanced acting but are minting monies by virtue of castor-oil-requiring makeup and sleazy skin show. Sai Pallavi's Telangana accent will be the talk of the town and more film-makers will now be truly emboldened to segue films with heroines waxing eloquent in Telangana dialect. It goes to Shekhar and Dil Raju's credit that they retained Sai Pallavi and backed her to the hilt – any other replacement wouldn't have had unleashed such countryside contagion. Varun Tej also shines in the film that will go down as his first big hit. He might have got overshadowed by Sai Pallavi at many points because the girl played the role for broke while Varun still had to wear a chip of glamor but he is proving to be a classier Tej in the clan of heroes all trying to up the ante in masala fare. His diction has changed from "Mister" and this film shows good work-in-progress for his articulation. The chemistry between Varun and Sai Pallavi is palpable and one shudders to think whether this is the same script that Mahesh Babu turned down when Shekhar narrated the story. All other lead characters like Sharanya Pradeep, Raja Chembolu and Satyam Rajesh fitted their roles well. But the character that stands out is yesteryears' actor Saichand who plays father with utmost dignity and class. His role reminds you of the promise that he showed many years back when Saichand acted in the award-winning art film "Maa Bhoomi". There is an air of serenity and supreme calm whenever Saichand speaks on screen.
On the whole, the film is worth a decent watch by family and friends. If one connects to the film's love track, perhaps repeat viewing may also ensue making the film a huge hit. Whatever that be, Shekhar Kammula and his team of Assistant Directors and a long list of co-directors including Anish Kuruvilla deserve ovation for creating one of the most mesmerizing love stories of our times. Hope more commercial stars and producers relook at banking on this talented director who never takes short-cuts to taste success.