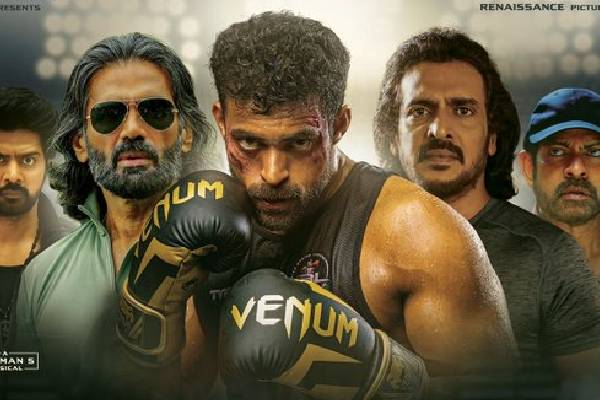 Ghani Movie Review
Ghani Movie Review
Telugu360 Rating : 2.5/5
Story:
Vikramaditya wins 2004 Andhra Pradesh State Boxing Championship. In national championships, the organizers suspend him from the game due to allegations of steroid use against him. Vikramaditya's son Ghani wants to become a Boxer to prove a point to the society.  Ghani's mother wants Ghani not to involve in Boxing but he practices without her knowledge and becomes district champion. VIjendra Sinha ( Suneil Shetty) whose once opponent to Ghani's father reveal the real incidents from the past. Rest of the story is how Ghani and Vijendra Sinha take revenge on the betting syndicate kingpin. 
Analysis:
Ghani tries to be different from a typical sports template films by adding family drama into it. This film also tries to be contemporary by covering betting menace in Indian sports. Ghani has love, revenge; message oriented all in one and could do only partial justice to each thread. Movies starts off with 2004 flashback episodes covering Vikramaditya (Ghani's father)'s  brief flashback.  Ghani's rise as boxing champion, his brief love thread with Maya ( Saiee Manjrekar ) and a twist at interval makes the first half. There is not any engaging factor in a lackluster first half. The script gets better in second half as Suneil Shetty, Jagapati babu and Upendra enter the proceedings. The high profile Indian Box Office league by Eeshwarnath ( Jagapati Babu) and betting operations, revenge episodes ,  the way few twists are revealed make up for a much better second half . The writer director Kiran Korrapati has come up with a decent enough story to become a hit movie, but the final output is not beyond average. Hanuman Ravuri has provided story support and dialogues help . Good dialogues like " Abaddhaniki Telusu, adhi eppudaina vodipotundhi ani " are there in the film.  Heroine role is forgettable one and very small role. The production values are very good for Ghani film. Debutant production house Renaissance Pictures and Allu Bobby Company has spent adequately to bring niche look to the film. For each character, they hired reputed actors. However, there is also miscasting like Naresh as boxing coach. S.S. Thaman's music isn't helpful much to the film 
Positives :
Varuntej role as boxer
Prodcution Values are good
Second half is relatively better 
Negatives :
First half of the film is a filler
Emotions could have been better
Music
Very predictable scenes 
Verdict:  'Ghani' is an average film at best. The second half of the film has been relatively better written and engaging, but the first half was shallow. This sports drama deals with IBL betting syndicate, A Victim family's struggle, the injustice to sports etc. Overall, Ghani film has some good elements but may not be enough to pull off.
Telugu360 Rating : 2.5/5
Summary
Reviewer
Review Date
Reviewed Item
Author Rating