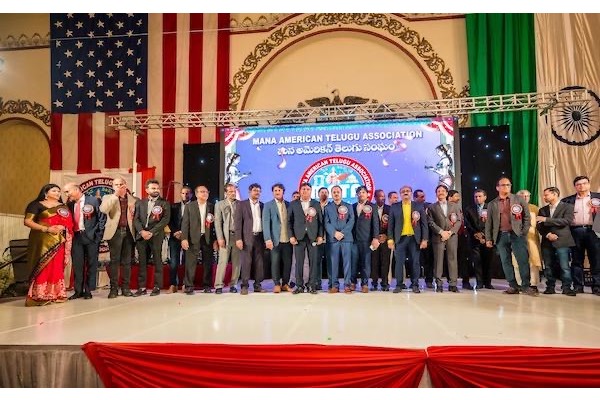 Mana American Telugu Association (MATA) is a new Telugu association which is aiming towards Service, Culture and Equality of fellow Telugu people prioritizing women empowerment, encouraging youth and giving best care for our senior citizens.
MATA launched with lightning up lamp on April 14,2023 at Royal Albert's Palace in NJ for the best Service as a prime priority for our Telugu people who are living in North America . Around 2500 Telugu people were being a part of this grand launch event.
The event was organized in a mini-convention style with perfect execution and delicious food,vendor stalls and nearly 150 youth from local schools performed various dance forms.
The Grand Launch event was organized by MATA Core team consists of Srinivas Ganagoni, Pradeep Samala, Sri Atluri, Sridhar Chillara, Damu Gedala, Swathi Atluri, Jitender Reddy, Dr. Stanely Reddy, Pavan Darisi, Prasad Kunisetty, Sekar Vemparala,Hari Eppanapally,Gangadhar Vuppala, Kiran Duddagi, Vijay Bhaskar Kalal, Praveen Guduru, Mahender Narala, Ram Mohan Chinnala, Venkat Sunkireddy, Shekar Reddy Konala, Srinivas Kanakam, Lakshmi Moparthi, Krishna Siddhada, Gopi Vutkuri, Raghu Modupoju, Venu Gopal Giri, Venky Masti, Anjan Karnati, Giri Kambhammettu, Raghuram Rendeuchintala, Girija Madasi, Sreedhar Gudala, Baburao Samala, Raj Anandesi, Tony Jannu, Satya Nemana, Ravi Karingula, Roopak Kalluri, Dipak Katta, Srinivas Komatpally, Suresh Khajana, Sudhakar Turaga, Sudhakar Uppala, Jyothi Karnati, Shirisha Gundapaneni, Jaya Telunkuntla, Mallik Reddy, Ujwal Kastala, Mahesh Challuri, Purushotham Anumolu, Venkat Chilakamuri, Chaitu Madduri, Vekatesh Mutyala and Krsihnasree Gandam and Mallik Rao Bolla.
MATA Founders Srinivas Ganagoni, Pradeep Samala explained the mission and vision of the organization to the audience how they are unique, the organization will be built based on 3 core principles of Seva, Samskrithi and Samanathvam. The organization will work towards the women empowerment, encourage youth and provide importance to senior citizens.
There are nearly 60 students performed on MATA-Swagatha Geetham, written by Dr. Vaddepalli Krishna, music composed by Parthasarathy and the dance farm choreographed by Smt. Swathi Atluri.
The Youth team managed by Smt. Lakshmi Moparti showcased their mission and vision of the organization.
MATA was able to launch its Chapters in nearly 20 cities such as New Jersey, New York, Greater Philly, Albany, Maryland, Virginia/DC, Tampa, Dallas, Houston, Austin, Atlanta, Chicago, Detroit, Kansas City, North Carolina, Ohio, St. Louise, Los Angeles, CA and Seattle with more than 2000 life members on a day 1.
The representatives from NY, NJ, Greater Philly, Maryland, DC/Virginia, Albany, Dallas, Florida and Seattle came in person and participated in the event:
The New York MATA team consists of Dr.Stanley Reddy, Uday Dommaraju, Linga Reddy, Kiran Reddy Parvathala, and Prasad Vavilala graced the occasion.
The Greater Philly team consists of Sridhar Gudala, Mallik Rao Bolla,Naveen Yerra, Raja Gandhe, Srilakshmi Kulakarni, Mahipal Reddy Podduturi and Baba Sontyana.
Albany team consists of Srinivas Aravapally,VV Rami Reddy,Sridhar Pentyala, Ram Mohan, Sridhar Tirumala and Kishore Kuppireddy.
From Maryland Srinivas Sayini, DC/Virigina Dr. Saraswathi, Babu Rao Samala and Srinivas Thatipamula graced the occasion and extended their support.
Tonny Janu from Florida, Raj Anandesi from Dallas, Vijay Gaddam from Seattle attended the event.
Srilakshim Kulakarni emceed the event within her own style and made the event a grand success.
All the reps from TANA, ATA, NATA, NATS, TFAS, TLCA,TAGDV & PTA and other local organizations attended the event and welcomed the brand new organization MATA.
Our most popular playback singer Smt. Sunitha & Anirudh with MLiveBand made the evening most memorable and entertaining with her beautiful voice. Our sincere Thanks to each and every donor, association member and audience for making this program successful.
The feedback was simply superb! The attendees noticed that flawless execution of the event, the food is delicious. The support came from across all parts of the community with more than 2500 attending the event.
For future programs and other details, please visit: www.mata-us.org
CLICK HERE!! for Photo Gallery.
Content Produced by Indian Clicks, LLC