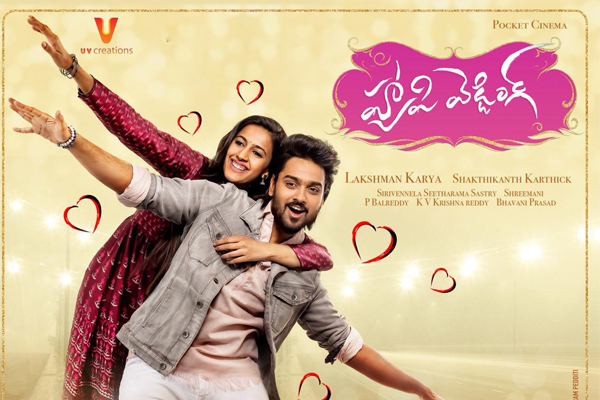 Happy Wedding Telugu Movie Review
Telugu360 Rating : 2.75/5
Story :
Akshara – a saree designer, falls in love with Anand – an Ad script writer. As both sides' elders agree, they decide to marry soon. Akshara who heartfully agrees for marriage is still concerned how it would turn for her. Though Anand deeply loves her, doesn't exhibit it in action up to her expectations and her disappointment grows. Meanwhile, by profession, Akshara's ex-boyfriend Vijay re-enters her life apologizes for his past mistakes.
Eventually Akshara's concern over her fiance Anand grows, reconsiders her marriage. Rest of the story is how things unfold between the three and how their families react!
Analysis:
'Happy Wedding 'is an indecisive girl's typical dilemma while entering marital life. Lead pair Akshara and Anand belongs to Hyderabad, Vijayawada respectively. Akshara's viewpoint about her fiance, ex-boyfriend and on marriage forms the basis for this story, it scores in that aspect. The known point – Boys who are so caring while in love slowly turns less attentive after the girl accepts – has been dealt with support of casual practical incidents. Without too much romanticizing the relation called love, debutante director Lakshman Karya tries to be quite natural in his approach. His characters are not over the top but cut to the point. They don't speak cheap language in the name of boldness or attitude. However, the parents' characterization is too filmy i.e. too feel good factor. The conflict point and resolution are not strong. Though nervousness is a typical thing with the bride to be, undecided on marrying the same guy until the marriage date is far fetched idea. Until Akshara tells Anand she needs more time to decide is good, but it streches till the marriage date as a cinematic liberty.
First half of the film is cool, second half is adequate but slow paced and preacy approach may not be liked by some sections. Dialogues are major asset of this film, but again they're all over the film pages and pages. Dialogue writer Bhavani Prasad and director inserted so many dialouges as if this film is their last chance. However, notable is majority of the dialogues are good. Every youth will identify themselves in Akshara, Anand and some in Vijay character too.
This current generation love story scores brownie points for its honesty, flipside the weak conflict point becomes redundant. The pace of the film is slow but not uncomfortable. The preachy tone of the dialogues doesn't appeal to masses.
Production values by 'Pocket Cinema' are pretty average and the budget constraints are visible in few scenes. 'UV Creations 'association to this film means a glossier look to the final product is expected. Debut director Lakshman has done a satisfactory Job. Bal Reddy Cinematography and Srinivas Reddy editing are slick. Music by Shakthikanth is very average, Background score by Thaman is very good.
Performances:
Niharika Konidela is beautiful in this film. She portrays confused girl's role so naturally. Hero Sumanth Ashwin has improved in performance, dialogue delivery needs much more improvement. Artists Naresh, Murali Sharma, Sirivennela's son Raja, pavitra lokesh, Indraja and Tulasi are decent in their roles.
Positives:
Clean family story
Dialogues
2 Hour slick film
Niharika Konidela
Negatives:
Slow paced narration
Weak conflict point
Songs
Preachy at times
Verdict:
'Happy Wedding' is a clean family film with sensible,natural story line and dialogues. Niharika Konidela is the USP of the casting, Sumanth Ashwin shows improvement. On flip side, slow narration and preachy tone at times may limit this film's box-office performance.
Telugu360 Rating : 2.75/5
Release Date : 28th July, 2018
Director : Lakshman Karya
Music Director : S.S.Thaman
Choreography : Bal Reddy
Production company: UV Creations
Starring : Sumanth Ashwin, Niharika Konidela
Telugu360 is always open for the best and bright journalists. If you are interested in full-time or freelance, email us at
Krishna@telugu360.com