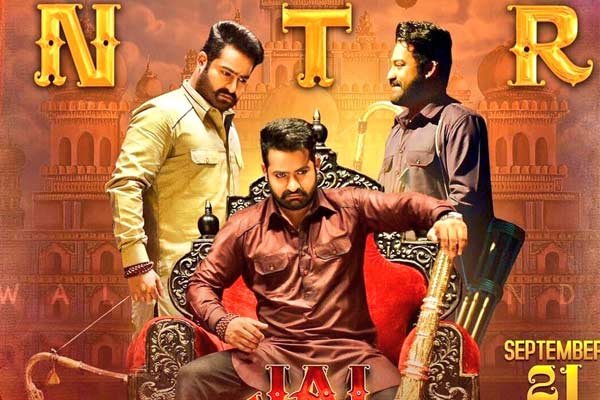 Jai Lava Kusa Review
Jai Lava Kusa Review
Telugu360 Rating : 3/5
The much awaited Dusshera season officially commenced with the grand release of NTR's highly anticipated emotional drama Jai Lava Kusa, which has director Bobby at the helm.
NTR is playing a triple role for the first time and the trailer has already implied that the film is going to be an emotional tale of three identical triplets with juxtaposing traits. Was NTR successful in pulling off the magic? Let's look into the review…
Story:
Jai, Lava and Kusa – as kids perform in mythological dramas along with their uncle(Posani) in their village. The uncle discriminates Jai for his stuttering who soon develops grudge on others. In a deliberate attempt to take vengeance, he sets fire to the entire stage. As a result, the three brothers get separated in that accident.
20 years later, each one of the brothers are under impression that the other two are dead. But Lava and Kusa coincidentally meet in a city. Lava a bank manager, who is helpful person by nature, is in risk for lending money to wrong parties. Kusa who is a street smart, impersonates as Lava to resolve his brother's crisis. At that point Ravana aka Jai makes a surprise entry back into their lives.
After growing as a ruthless gangster in Berhampur of Odisha – Jai aspires to contest in Lok Sabha elections. To help him achieve his goal, Jai kidnaps his brothers from Hyderabad and gets them to Odisha. Rest of the story is about how Jai rises as Ravana? How he uses his brothers to fulfil his political ambitions? How will his political opponents react – has to be watched on the big screen
Analysis:
Jai Lava Kusa comes with a different story point compared to the run-of-the-mill commercial films, that the audience have been rubbed with over and over again. Despite being "different from others", the story could not score in terms of creativity or on the basis of reasonability.
The premise of three identical triplets, reduces the need to have a great story and gives sufficient platform to go with scene based treatment from the directorial point of view. That is what exactly director Bobby did. NTR is the only hero who is apt for this story and indisputably no other present-day hero can run this show.
Designed to showcase his strengths, this film hits the nail on the head. It is out and out one man show of NTR. One-man show is loosely used term these days, but for this flick it is truly appropriate. With 80%- 85% screen time of the hero and especially with every frame showcasing twins or triplets – is nothing less than a nightmare for any actor with any kind of calibre. To make things even more complex for the actor, the characters are positioned differently and contrasting in nature. We should appreciate the struggle they undertook during this process. NTR showcased his acting prowess as JAI, LAVA and KUSA. It is treat to watch him perform eloquently. As Jai, he reminds us of his Simhadri days, as Kusa he recaps Chary of Adhurs.
Movie opens on a dull note with first 20 minutes lacking lustre. Soon it picks up momentum after Lava and Kusa meet, continues the entertainment streak till the climax. There are no "wow" moments nor boring moments in the above said 2-hour window. Ample comedy situations are created out of Kusa impersonating Lava. The dialogues written by Kona Venkat/Bobby worked very well.
In second half, the cognitive behind Jai kidnapping his brothers is not so convincing. Since they used the circumstances to produce lighter vein scenes, logic has been set aside in disguise of cinematic liberty.
The dialogues of NTR in the mythology scene in which the brothers try to bridge the gap are too good.
The distressing points are primarily technical values. The product as a whole package lacks niche. 'NTR Arts' known for best technical values even for mid budget movies, this time compromised in terms of technical finesse. Firstly, sets appear cheap at times. Songs are average and without repeat value. For this genre commercial films, repeat value songs offer long run to the movie. Secondly the art work lacked grandeur.
Cinematography, motion control and VFX teams must be appreciated for handling triple roles without many glitches.
Climax setup takes the audience on a trip to the 90s, showcasing more emotional drama between the brothers than action oriented. Hence, the climax portion may get divided talk.
Performances:
NTR as Kusa, Jai and Lava delivered his best. He carried comedy and ferocious roles with equal brilliance. Rashi Khanna as a marriage bureau owner had a limited role which she did well. Nivetha Thomas role is limited too and to put in other words there was no scope to perform. Posani got somewhat significant role and was his usual. Comedy scenes by Priyadarshi are good in first half. With the protagonist and antagonist being played by NTR, there is hardly any scope for others to perform.
Highlights:
NTR's performance undoubtedly
Entertainment value through-out the film
Elevation of Ravana's character
Tring Tring, Nee kallallona and Asura Asura songs
Negatives:
Introduction song and item song could have been better
Cheap production values. Though stupendous pre-release business is on hand, similar to Katamarayudu, production team focussed on making more money than spending on the film quality
The bonding between the brothers lacked emotional connect
Verdict:
'Jai Lava Kusa' has a blend of entertainment and heroism. If you're fan of NTR, you will love this film. This film offers a decent comedy entertainment throughout despite the clichéd story line. It is a one-time watch for regular moviegoers.
Telugu360 Rating : 3/5
Release Date : 21st Sep, 2017
Director : K. S. Ravindra (Bobby)
Music Director : DSP
Choreography : Chota K. Naidu
Production Company: NTR Arts
Starring : NTR, Raashi Khanna, Nivetha Thomas