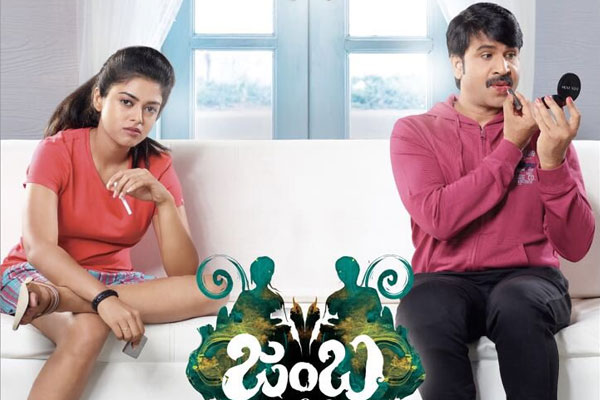 Jamba Lakidi Pamba 2018 Review
Telugu360 Rating 1.5/5
A comedy hit film 'Jamba Lakidi Pamba' was released in 1993. 25 years later, in 2018, another film with same title has been released. Whether this new one has been a successful one or not. let us see:
Story:
Varun (Srinivasa Reddy), Pallavi (Siddhi) couple is not a well-adjusted one. Pallavi suspects Varun has an affair with a female colleague, Varun thinks Pallavi makes nuisance out of everything. Finally, the couple approach popular divorce lawyer Harischandra Prasad (Posani) who has handled 99 divorces till date. As the lawyer begins working on 100th divorce case, dies in a road accident. Then the story takes a fiction turn. God sends back Posani to rectify his sins by stabilizing Varun Pallavi's shaky marital life. Thus, Posani returns to earth as a Soul / Ghost
Rest of the story is how the lawyer's soul drives the marital life of Varun pallavi towards a happy ending.
Performances: Srinivasa Reddy as Varun is good, his mannerisms as woman were Ok. New heroine Siddhi looked like too young, not suited well to the manly woman role (after role reverasal). Posani Krishna murali is annoyingly lengthy dialogues in this film, he did lot of over the top action. Vennela kishore as Swaroop (Posani's assistant lawyer) has been energetic occassionally but that doesn't suffice. Jaya Prakash Reddy, Shakalaka Shankar, Dhanraj, Raghubabu and Satyam Rajesh are wasted. Hariteja's role as maid is just okay with cliched comedy
Analysis:
In yesteryear's 'Jamba lakidi pamba' all men were behaved like women and vice versa. In 2018 'Jamba Lakidi Pamba' – only the lead couple's gender interchanges at interval. Still, that gives enough scope for comedy had it's been utilised properly. Initial part of the film establishes how the misunderstandings in Varun, Pallavi's marital life flares up. At interval, as Posani's magic apply, the gender of the wife and husband changes. In second half, the couple understands each others' situations by stepping into others'shoes (aka bodies). In summary, that is the concept of the film which has ample scope to deliver a laugh riot. But, surprisingly the director J B Murali Krishna has failed to evoke neither healthy nor vulgar humour at any given scene. Only thing worked for a shorter period was srinivasa reddy's body language as a woman. However, that too gets too repetitive by few scenes. There are many comedy actors in the casting, but all of them were under utilized. The last one hour of the film where the lead couple shifts to a village, that is another set of poor episodes. Overall, with 1 hour first half and 1 hr 15 minutes second half, the 'Jamba Lakidi Pamba' film could not match the expectations.
The stress relief dances in IT company, Hero Suman as God in fashionable suits, Village episodes and Posani's lengthy appearance in close up shots etc test patience of the audience. One or two songs are audible, which we quickly forget before exiting the theatre. Produciton values are adequated for this low budget film. Comedian Srinivas Reddy who entertained the audience in reasonable full-length roles, failed this time because of poor script
Verdict:
'Jamba Lakidi Pamba 2018 'is a disappointing comedy fiction genre movie. The story is based on a couple's dispute in marital life andtheir interaction with adeceased divorce lawyer's soul. In it's 2 hr 15 mins duration, this film hardly evokes any laughter.With no major positive elements, survival chances at box-office are bleak.
Telugu360 Rating 1.5/5
Release Date : 22nd June, 2018
Director : J.B. Murali Krishna
Music Director : Gopi Sundar
Choreography : Satish Muthyala
Producer : Jojo Jose
Starring : Srinivasa Reddy, Siddhi Idnani, Vennela Kishore