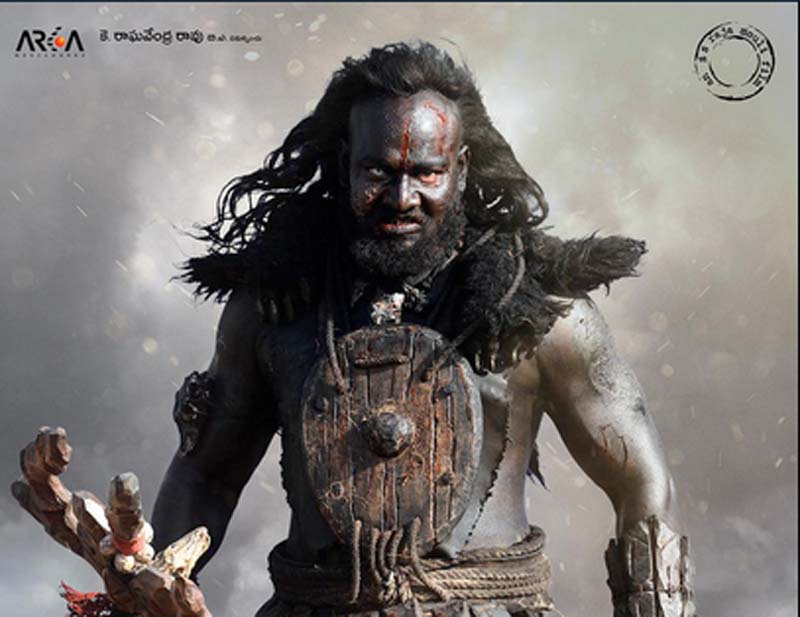 I wanted to become a police as I was never interested in films. My brother is in the Army and since everyone in the family were above six feet in height, I knew I would get into BSF or CRPF or something similar. My uncles take this to an extent of an insult, if anyone is an inch less than 6 feet. I remember, I was exercising in seventh class at school. Seeing me so tall and not finding me good enough in shorts, they asked me to wear pants. So, I was 6'2 then. I loved sports, be it cricket or discus, I was sure of getting into the police department but unfortunately the selections got cancelled. At that point of time, a friend took me to Magadheera shoot and I would be just hanging around with friends. I was a very shy person. I was so shy that If I go home and find some new slippers lying outside the door, I would presume there was some guest at home and would go to my friends home. I would never step in if there was a new person at home. So, when I went to see the shoot of Magadheera, Rajamouli's gaze stopped at mine. My friends said he found me special and was in fact, gaping at me. I didn't take them seriously though.
After one week, his associate director called me to Rajamouli's house. I sat on the edge of the seat. I was shivering as he was already a popular director by then and had directed Chatrapati. I was given tea and told that I would be given a strong good character. I told him, I can't act but he sent me to Devadas Kanakala Acting School. They paid me a salary of ten thousand, my acting school fee, gym and boxing fee. I didn't have to spend a penny on anything. I became Byreddy in Maryada Ramanna and it fetched me a lot of publicity. I worked in Gabbar Singh, Krishnam Vande Jagdagurum, Dookudu and around 40 films including the recent Dongaata. All my roles so far had been serious, but the one in Dongaata was really humorous. Though I'm not as shy as before, I still am on tenterhooks and slightly insecure. I wasn't sure if I would land a role post Maryada Ramanna.
I did not ask Rajamouli for this character in Bahubali. Everyday, I would pray that I bag at least a small role or the other. I was in Pollaachi for Attarintiki Daredi and I got a call from Rajamouli. I told him, I could only come after a week because of the shoot and he agreed. He didn't explain the character and I was told to practice fights. It was only two days before the shoot that they narrated Ramya Krishna's character and then mine. I was then given dialogues to memorise. I loved the way he narrated and while he was doing it, I was going through a gamut of emotions. I had goose bumps. As a youngster, I would read interviews of stars about how they bagged roles. I too wanted to be in that place and felt like a dream fulfilled. Usually, people like an assistant director narrate your character sketch at the location but Rajamouli took me aside and gave a one to one narration.
He gave me the dialogues and said that the shoot would begin a day after. I thought it was Telugu but he said hang on and reeled the dialogue. The new language Kiliki made me sweat. I had to say that with a lot of pauses and sounds and he said that it was a single take dialogue. What you saw in the film was in cuts but what I said was a big dialogue. I had to memorise it and say with the expression. I had to attend another shoot, the next day and didn't have the luxury of practising on the sets of the other film. If they got to know, the secret language would have been leaked. I would wake up in the wee hours of morning at around 3 am and would memorise and act it out in my wife's presence till 6 am.
We all talk of other language movies breaking records, critical acclaim and now, I feel so happy that our time has begun. People all over the the world are talking of Rajamouli. I must tell you that the sequel will be unimaginable and all your guesses of what could happen, will go wrong. If your story matches Rajamouli's, how can he be a great director? He will surprise and shock all of you. Valli, Keeravani's wife was like a mother, not for me but also for the entire team, seeing to it that we all ate well and on time. Once we get coloured, we couldn't eat. So, they made sure we all were comfortable. The producers are nothing short of gold, you learn so much from their discipline and change a lot in their company.
The make up would take two hours and I had one enlarged. I had to pull the skin underneath my eye and had to made to look big, through the day. It was a lot of pain but looking at the appreciation flowing, everything seems faded and forgotten. Rajamouli said that he got a lot of calls from lot of people about me. I am not from a cinema background and I consider Rajamouli as God. Anyone who helps a man in distress is God. I was cheated by a relative and sat at home for six years hoping I would get a job in the police department. He took money and made me wait for 6 years. I have named my son Sri Ram Rajamouli as a token of gratitude for the couple. People give us characters, but no one will do what they did for me. When I got married, he again helped me; I was zero then. I only wished the war scenes didn't leak. That shoot went on for 120 days. If those scenes would have been in wraps, there would have been a better kick in watching the film.
(This blog was written exclusively for Telugu360.com by Prabhakar, who is now famous for his Kilikili language in Bahubali. Prabhakar earlier acted in Gabbar Singh, Dookudu etc).