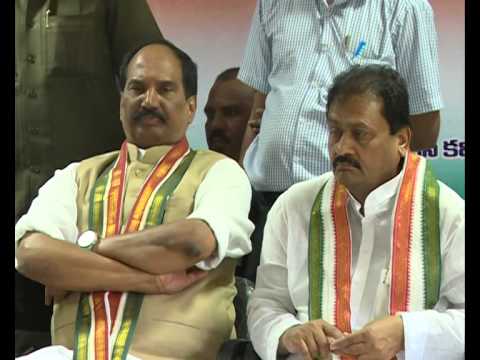 Telangana Congress is playing spoilsport chief minister KCR's Ramzan mood by reminding him the annoying and un-implementable election promise of 12 per cent reservation in Jobs to Muslims. Rao, in an emotionally fired moment of 2014-elections campaign, assured everything to everybody and 12   per cent reservations to Muslims in Telangana. Everybody knows it was a pie in the sky. Yesterday, to strike a chord with Muslim, he chose to announce Iftar-dinner, free cloths,  honorarium to Imams etc on the occasion of  holy Ramzan month. He asked the government and his party to organize Iftar parties across state. All to cost Rs 26 crore.
However, Congress is planning to play spoilsport by reminding both, the chief minister and Muslim community,about the forgotten assurance of 12 per cent reservation.
The T-Congress has decided to organize, down from village to Hyderabad, counter Iftar parties and will remind them that they should pressurize the government for the implementation of 12 per cent reservation poll-promise of KCR.
On Friday, TPCC President N Uttam Kumar Reddy and Leader of Opposition in Council Mohammed Ali Shabbir criticized chief minister K Chandrashekar Rao for his Iftar sops for Muslim stating that it was bait to divert the attention of community from election promise of 12 per cent reservation.
"The Rs 26 crore fund for Muslims announced by KCR is pittance. They don't want to survive on crumps thrown at them. Muslims are waiting for the implementation of 12 per cent reservations offered by the chief minister KCR," said Uttam Kumar Reddy.
Shabbir Ali accused KCR of trying to humiliate the Muslim community. "Is he trying to give us 'Khairaat' (Alms)? KCR has insulted the entire Muslim community by offering a meagre Rs. 1,000 monthly salary to Imams, who enjoy highest respect in Islam. Has he consulted the Ulemas before making this announcement?" he asked while adding that a similar attempt made by the then Congress Government in 2004-05 to pay Rs. 5,000 per month salary to Imams was rejected by the Muslim Personal Law. He said KCR cannot take unilateral decisions on matters involving religion and religious sentiments.
Shabbir Ali also questioned the silence of Majlis-e-Ittehadul Muslimeen on the issue. He said both TRS and MIM should clarify their stand on Alair encounter and also explain when report on Kishanbagh police firing incident would be made public.