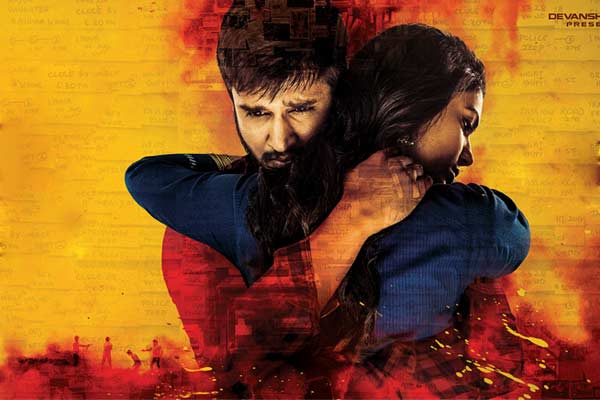 Keshava Movie Review
Keshava Movie Review
Telugu360 Rating 2.75/5
Story :
Keshava (Nikhil Siddharth)'s parents die in a car accident in his childhood. Keshava and his sister who are in the same car, survives with injuries. After he grows up, Keshava finds the miscreants who caused the accident and goes on a killing spree. As all the involved persons are police officers, things get intense between the serial revenge killer Keshava and the police department. Rest of this film deals with how he attempts to kill all five and how they try to defend themselves.
Performances:
Nikhil Siddharth as Keshava is intense in his revengeful character. In his bearded look, Nikhil is quite natural and good fit for the role. However, as story demands, he has to carry the same expressions throughout the film which turns monotonous. Rithu Verma as Nikhil's law collegemate, reunion childhood friend is adequate in the short role. Vennela Kishore is superb as age bar college student, his subtle comedy worked big time. Pellichoopulu fame Priyadarshi as hero's friend is just fine. Isha Koppikar as IPS officer Shalini Mishra is a good choice. Rao Ramesh, Ajay, Brahmaji, Raja Ravindra are the police involved in the Keshava's family car accident.
Analysis:
'Keshava' starts off with a road accident scene and turns into very engaging murder thriller in no time. After first two police officers' murders, as the officials fail to find even a single clue, the department imports a new investigating officer. She establishes Keshava as the prime suspect and gets him arrested. The film is very engaging till interval. Director succeeded in establishing an edge of the seat curiosity.
However, with proper alibi, Keshava comes out of custody. At this point in the movie, the grip loosens, cinematic liberties take the driver seat. Even after the Investigating officer and her boss get convinced that Keshava is the murderer, they let him go (fearing media) just because of lack of proper evidences to implicate him. This doesn't look convincing at all. Rao Ramesh's twist has also not worked well.
Another drawback is the theme point shown in the trailer (Hero having heart on right side, which means he has to keep his cool even while committing murders) having nothing to do with the actual story. Those who come to theaters to see an innovative screenplay based on that point, may be disappointed with not so innovative execution in the film.
Sunny MR's music is not good, all songs are instantly forgettable. Background score by Prashanth Pillai is good in parts. Divakar Mani's cinematography stands out. Director Sudheer Verma's innovative shot making combined with Divakar's cinematography resulted in visual brilliance in a few scenes. Interval arrest shot, Nikhil and his bike's silhouette in a smoke, aerial shots of police jeep chasing the suspect's bus etc. are classy. Vennela Kishore's comedy track is hilarious, Helmet joke is ultimate. Second half of the film is just of 45 minutes duration, which gives an abrupt end feel.
Verdict:
'Keshava' film is aimed at a limited section of audience. Great shot making, engaging narration in the first half, Good comedy are the strengths. Many cinematic liberties in second half, loosened grip over narration in second half, Gore are the negative points. At Box-office, this film may have limited patronage as commercial elements are missing. At A centers, below average to average film.
Telugu360 Rating 2.75/5
Release Date : 19th, May 2017
Director : Sudheer Varma
Music Director : Sunny M.R.
Produced by : Abhishek Pictures
Starring : Nikhil Siddharth, Ritu Varma