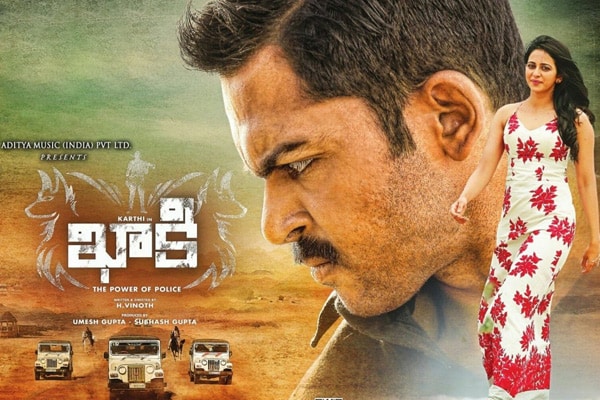 Khakee Review, Theeran Adhigaram Ondru Review
Telugu360 Rating : 3/5
Karthi's Khakee is one of the realistic cop stories in recent times. Khakee is an intense crime thriller based on true incidents occurred between 1995 and 2005. The director wastes no time in establishing the gruesome murders, dacoity of ruthless north indian dacoit gang who travel across the country.
The film is very different in tone and presentation. The makers researched police procedures well, authentically portrayed the functioning and how they investigate. They had shown entire proceedings without much drama or commercialisation. The only commercial thread inserted was DSP Deeraj's romantic track with his wife priya (Rakul Preet Singh). The romance was good in initial parts but unwarrantedly shown in form of cut shots in second half.
In 1999, Dheeraj (Karthi) a fierce, strict police officer works in Tamilnadu, gets transferred to every nook and corner due to political pressure. However, in the same timeframe, in suburbs of chennai and in various towns in Tamilnadu brutal robberies take place. Dheeraj becomes incharge of this case and finds out that traditional dacoit gang from Rajasthan is behind all this. Rest of the story is how Dheeraj nabs this gang.
Analysis:
The film starts off as a typical honest cop story, but the dacoits' frightening backdrop adds novelty to this action thriller. The homework done by the director is visible in many scenes. The Rajasthan, other north indian authentic locations made this film stand out from the crowd. Rakul preet singh is cool in her role, chemistry with Karthi was good. Abhimanyu Singh as dacoit gang leader Oma is so powerful.
Positive points of the film are engaging screenplay, edge of the seat action blocks. Dilip Subburayan's action scenes especially in Rajasthan are superbly choreographed and Sathyan Sooryan's camera work is in sync with the story including the 90's tone he maintained. Ghibran's songs doesn't offer much but BGM is adequate. Director H. Vinoth deserves an applause for his effort.
Negatives:
In second half, the cops' attempts to nab the Oma (Om Veer Singh) become redundant. The duration of the film is aproximately 2 hour 40 minutes and badly needs some 15 minutes trimming in the second half to make it crispier.
Verdict:
Khakee is a decent crime thriller with a different backdrop. The action sequences worked really well. The length of the film is little long, considerably dragged in pre-climax episodes. Commercially it may work better in Tamilnadu than in Telugu states due to the genre limitation.
Telugu360 Rating : 3/5
Release Date : 17th Nov, 2017
Director : H Vinoth
Music Director : Ghibran
Choreography : Brindha
Produced by : MD Umesh Gupta
Starring : Karthi and Rakul Preet